We recently broke down everything you need to know about some of the top fabrications we offer at BELLA+CANVAS. And now we're here to explain how different printing techniques pair with each of those fabrics. Below is your ultimate printing guide that we outline in detail in this post!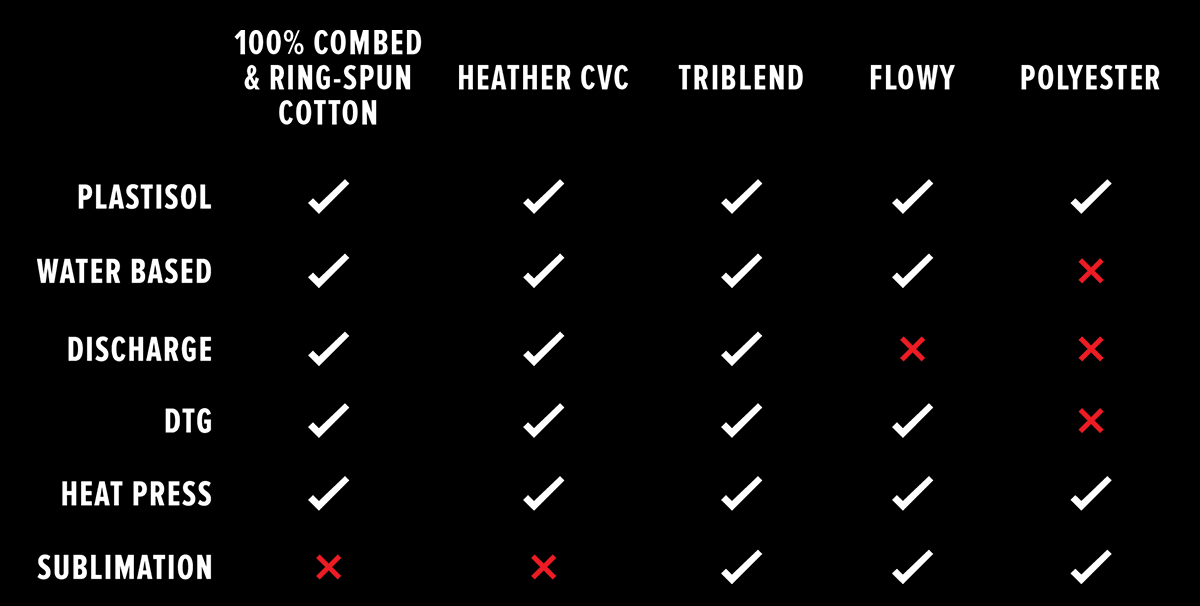 Printing Guide for 100% Combed and Ring-Spun Cotton
As we continue to mention, we only use 100% combed and ring-spun cotton at BELLA+CANVAS – meaning, the highest quality thread with the least amount of impurities. That means our 100% cotton garments have an ideal printing surface. You can pretty much do everything with cotton, which is why it's such a favorite among decorators. It's also a great fabric to use if you're just getting started, since it's so straight-forward to work with.
We recommend all printing inks and methods, except for sublimation (because that only works with polyester fabric). Our cotton tees are great for plastisol, water based and discharge ink. The only colors you need to be careful with for discharge are true royal, kelly green and purple, which are notoriously difficult for discharge. Heat press also works wonderfully, and our 100% cotton tee is the best shirt you can get for direct-to-garment printing or (DTG Printing).
Here's a little cheat sheet for you…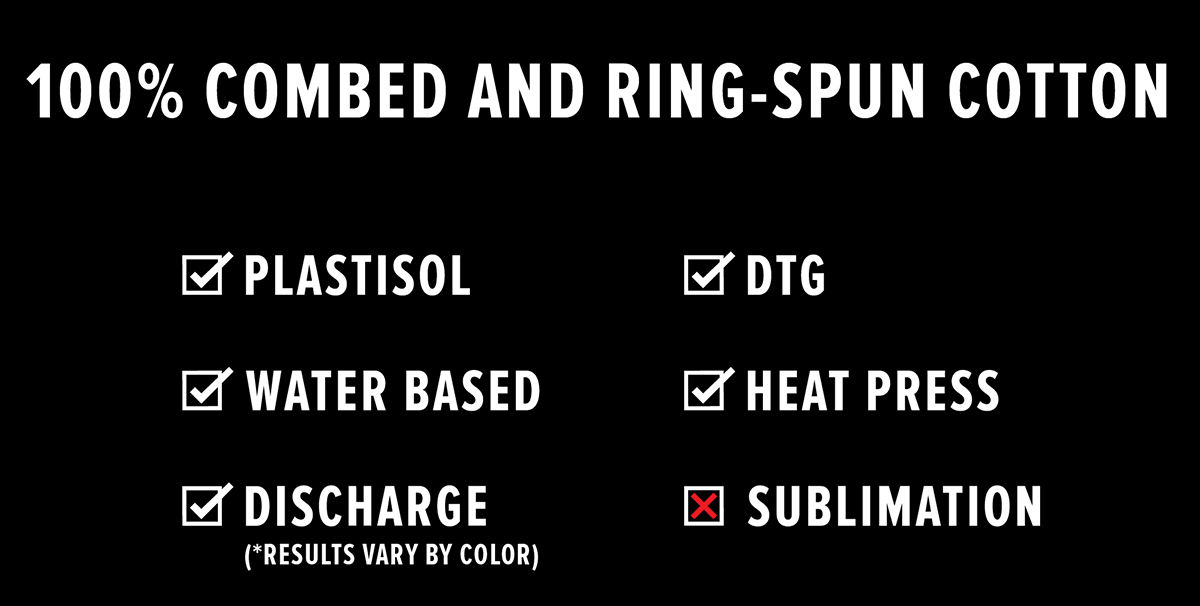 Printing Guide for Heather CVC
Our Heather CVC garments are made up of 52% combed and ring-spun cotton and 48% polyester. Typically when working with plastisol ink on heathers, you often have to worry about dye migration, which is when the polyester dye from the shirt shows through the ink. But at BELLA+CANVAS, we did extensive testing on our Heather CVC fabric and have found virtually no dye migration issues with our heathers. The great news for screen printers out there is that we determined our heathers work nearly just as well with cotton ink as they do with inks that have a poly blocker in it.
Water based printing really depends on the color of the garment versus the fabrication. That means a light-colored Heather CVC will print with water based ink very similarly to a light-colored solid. Since discharge ink only interacts with the cotton fibers, you're not going to get as bright of a result on a blend as you would with a 100% cotton garment.
DTG is certainly possible on heathers, but we recommend only experts test this technique. Heat pressing on our heathers will also get you a dye-migration-free result. And since our Heather CVCs only have 48% polyester, we do not recommend sublimation. That technique works best on garments with 50% or more of poly.
Here's the breakdown of our printing guide for Heather CVC: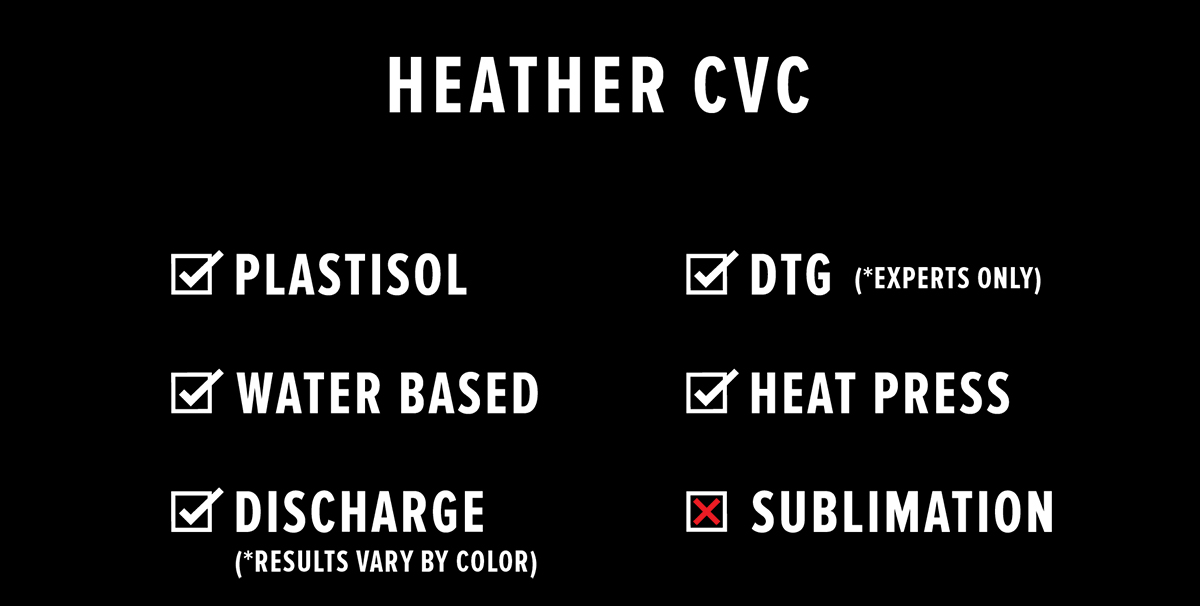 Printing Guide for Triblend
Printing on triblends can certainly result in really awesome prints, but there are some considerations to keep in mind. Since triblends are primarily made up of synthetic fibers — 50% polyester, 25% combed and ring-spun cotton and 25% rayon — you'll want to be careful of dye migration. The best way to find out is to test! With some of our triblend colors, cotton white ink looked perfect and bright, but with others, a poly blocker base worked best.
In today's market, we're constantly hearing about the hand of the print and how soft the fabric feels. The mixture of three fabrics makes BELLA+CANVAS triblends crazy soft, so you don't want to ruin them with a chunky print. That's why we love using water based ink, since there's no hand feel, it really keeps the integrity of the garment. As we've shown in the past, water based printing will look very similar on our triblends as they do our 100% cotton tees. Discharge printing is possible on some triblend colors, but you won't get as great of a result as you would using this ink on 100% cotton.
Normally, direct-to-garment printing is not recommended on triblend fabric. However, the BELLA+CANVAS triblend reacts differently than most brands, because the synthetic material acts more like a cotton than a plastic. We've seen some great results, but you'll need to do some testing first! Heat press is also possible, but due to the higher percentage of synthetic material, we recommend using a low temperature heat transfer to reduce fabric scorching. Sublimation on light colors works as well! Since our Triblend is 50% polyester, sublimating will give it a cool, vintage look.
Here's the printing guide for printing on Triblend: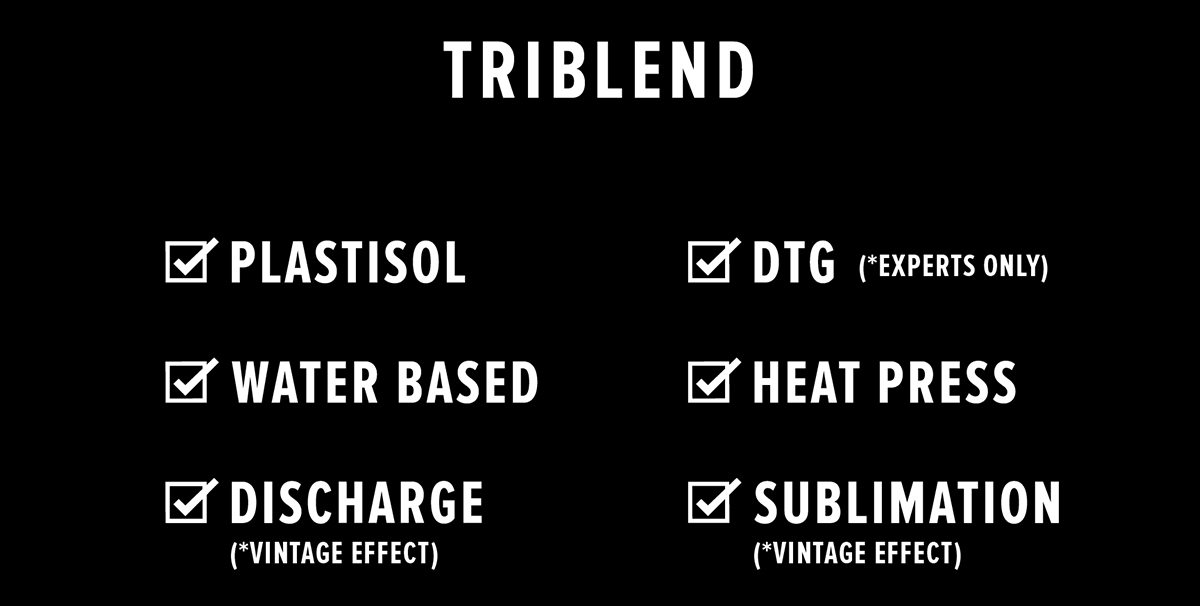 Printing Guide for Flowy
Flowy (which is made up of 65% polyester and 35% viscose) can be a trickier fabric to print on since there's no cotton content, but it's worth the effort because of the amazing feel of the fabric. Light-colored shirts are easy, but with darker colors, you'll need to take some simple measures to prevent dye migration. Use a poly-blocker plastisol ink or a poly-blocker base if you want to use water based ink. You can't really discharge on flowy, because discharge ink only removes the color from natural materials like cotton, and flowy is 65% polyester, a synthetic material.
DTG printing on our poly-viscose fabric takes a bit of testing and won't hold ink quite as well as 100% cotton, but we've seen great results on our flowy tees.
Our heat pressing recommendation for flowy is also similar to triblend. It's possible, but due to the high content of synthetic material, be sure to test on a low temperature, 280 degrees or below, to prevent scorching. Also, since this fabric is high in polyester, it's great for an all-over/sublimation print.
Here's the printing guide for flowy: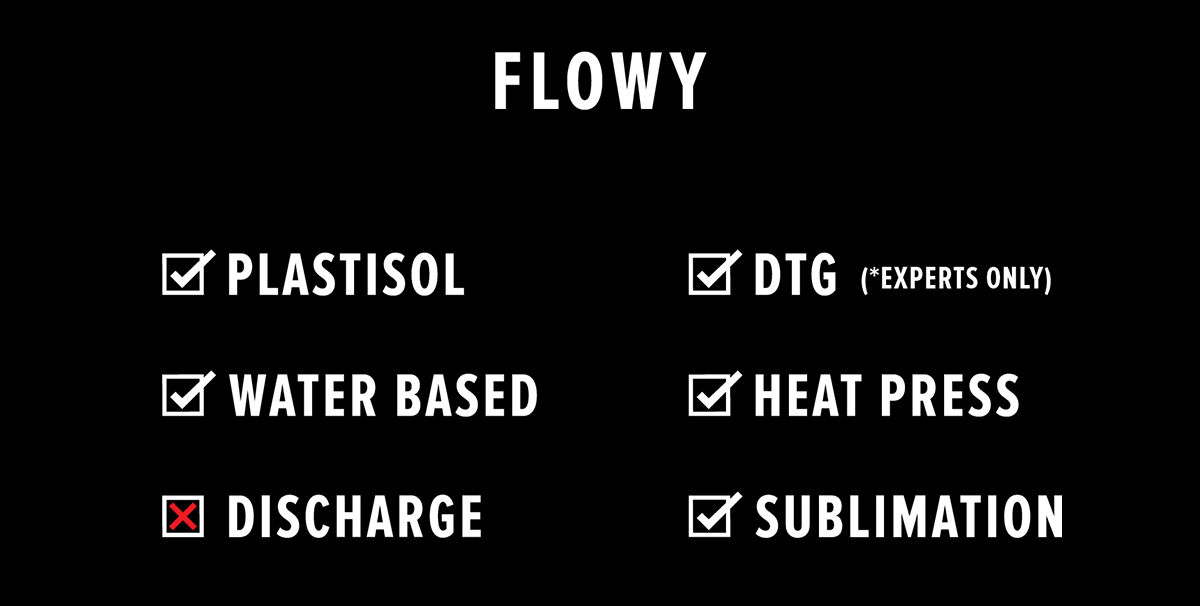 Printing Guide for Polyester
Polyester is really big in the athletic market, and while we don't have any 100% poly garments in our BELLA+CANVAS line, we also have a line called All Sport.
The best ink to pair with 100% polyester is plastisol. To prevent dye migration, try using a poly-safe plastisol ink or applying a poly-base as the first layer. You won't get great results using water based ink, and discharge won't work at all because there's no cotton content. Direct-to-garment is possible with 100% poly, but it's really tricky. We don't recommend it as the most DTG-friendly fabric.
When heat pressing on polyester, just make sure you're using a material that is resistant to dye migration. Since sublimation only adheres to polyester yarns, this 100% poly tee works perfectly for that technique!
See the full breakdown here: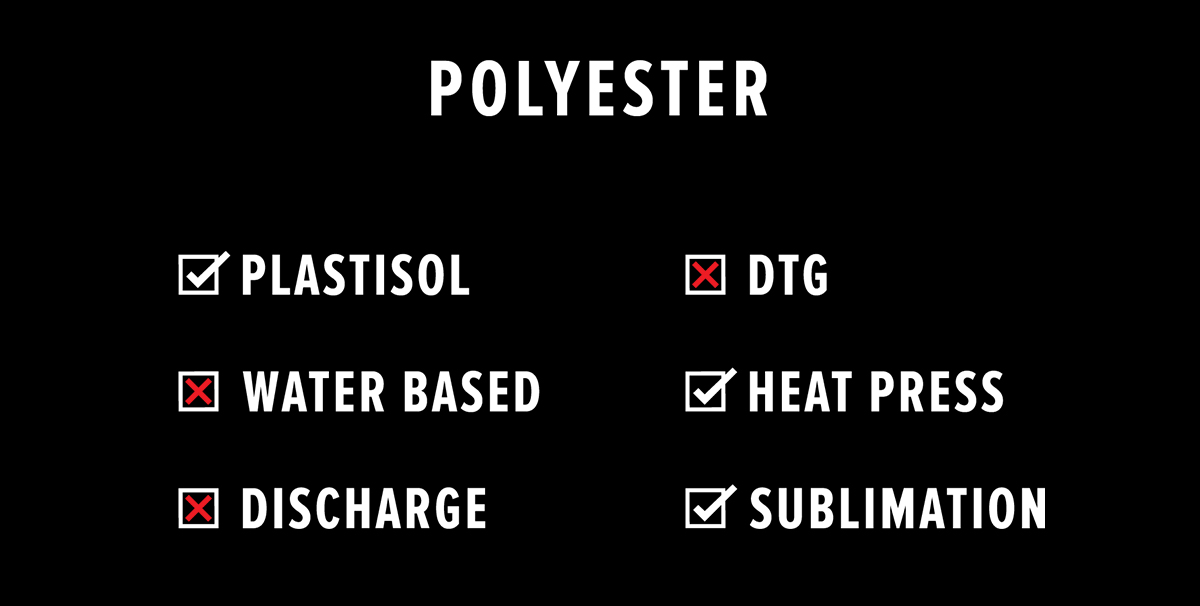 For of an in-depth look at how these different techniques turn out on each fabric, watch the video below.
If you haven't reviewed the fabric guide we mentioned above, you're missing out! Be sure to check out the corresponding video and blog post.  
And don't hesitate to share this post and video to anyone in your printing community! Subscribe to our YouTube channel for more content like this.
Summary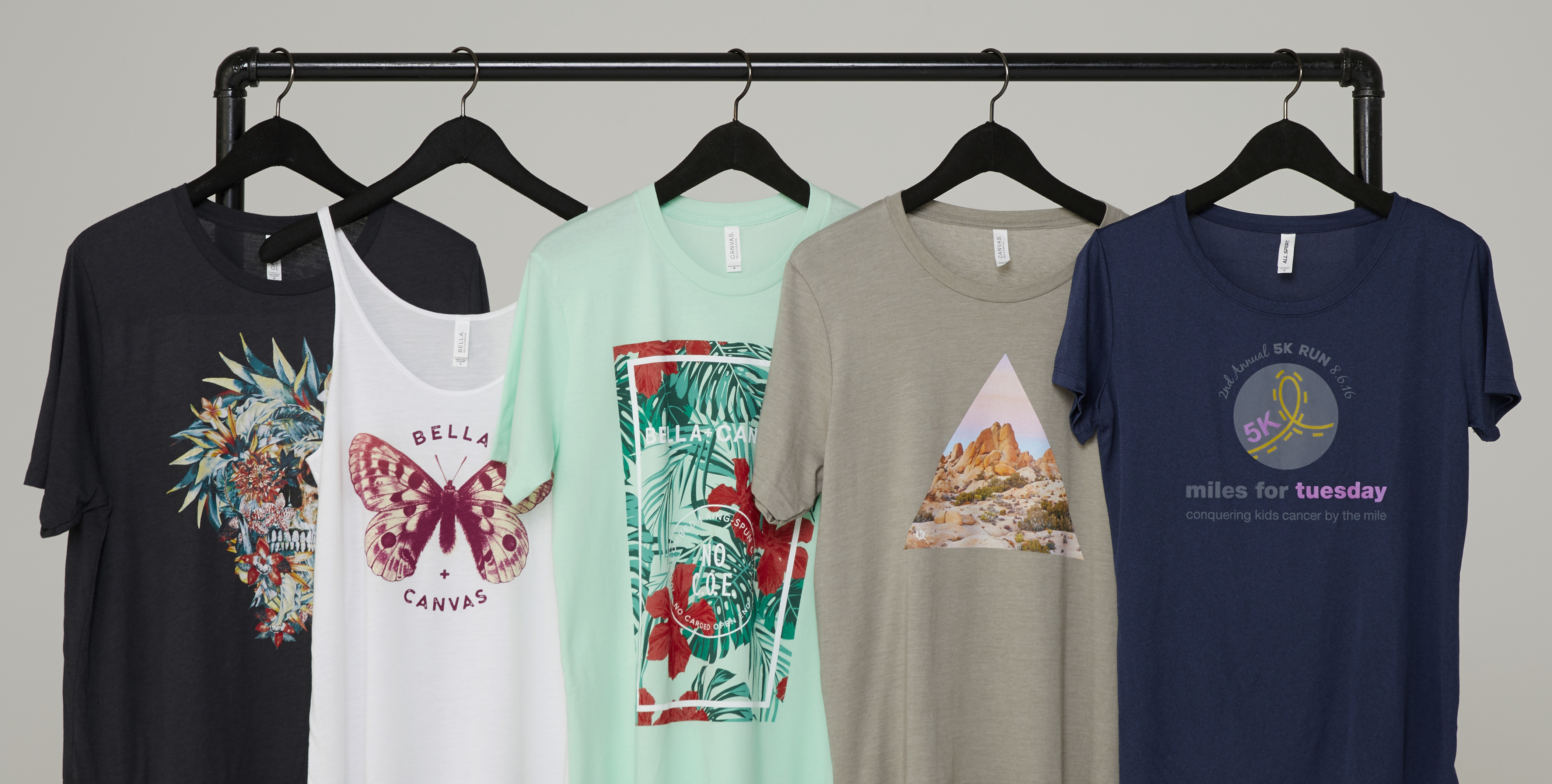 Article Name
The Ultimate Printing Guide
Description
We're here to explain how different printing techniques pair with each of those fabrics. Below is your ultimate printing guide that we outline in detail in this post!
Author
Publisher Name
Publisher Logo