Whether you're new to the industry or an industry vet, we're sure you've wondered what the difference is between a Heather CVC and a Triblend. And what the heck does Slub or Poly-Viscose mean? This post is going back to the basics. We're breaking down each fabric type, which will help you navigate the wholesale garment world and determine which BELLA+CANVAS products are best for you!
Fabric Type: 100% Combed & Ring-Spun Cotton
The only cotton we use is 100% combed and ring-spun. That means the raw cotton is literally combed through to remove impurities and then it's ring-spun to create a long, nice strand of yarn. That yarn is turned into our fabric, which has a super tight weave, smooth consistency and creates an ideal surface to print on! A lot of our competitors use carded open-end fabric, which results in a really scratchy and heavy tee. We're not sure about you, but that doesn't sound like something we want to wear… In our industry, single counts generally range from 18 to 40. Those scratchy carded open-end tees are in the 18 – 20 range. Our 100% cotton is a 30 single, meaning it has a significantly softer hand.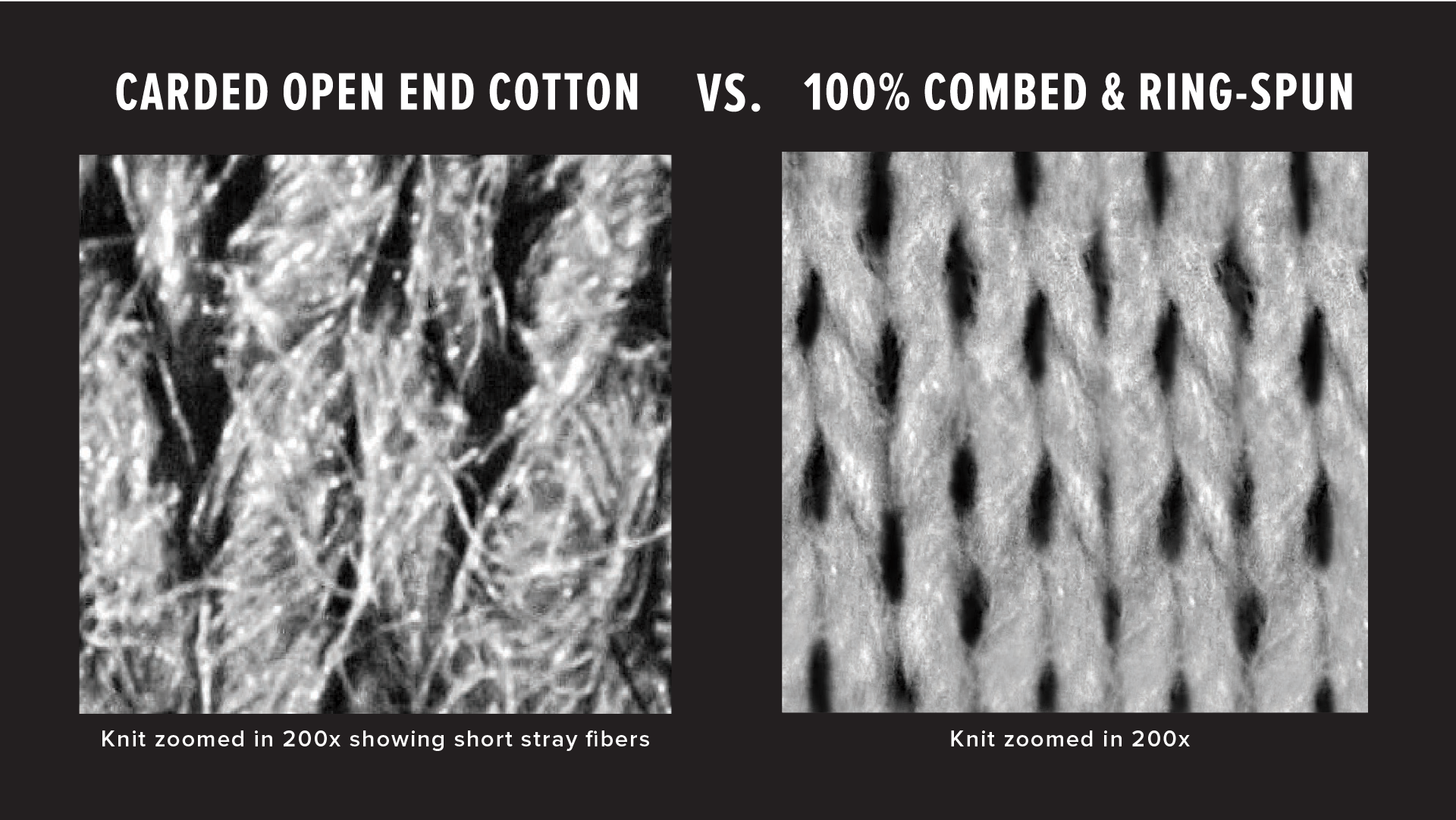 If you're familiar with our brand, you probably know about our 3001 Unisex Jersey Short Sleeve Tee. It's our bread and butter, and the most competitively priced premium 100% cotton tee you can get your hands on! Click the link to shop our full retail Jersey collection.
Fabric Type: Heather CVC
First of all, let's define what CVC means. It's an acronym for Chief Value Cotton, which refers to a cotton and polyester blend with a heavier percentage of cotton. Our Heather CVCs are a blend of 52% combed and ring-spun cotton and 48% poly. They are 30 single and 4.2 oz. These blends were initially made to lower import and export duties, but it's their quality and price that has made them a fast favorite in the industry. A lot of customers love to use these tees, because that polyester blend gives it a nice subtle textured look that elevates any print. Plus, they are lightweight and have a super soft hand. Click the link to check out the full collection of heather cvc T-shirts.
Fabric Type: Triblend
While we may be biased, we think our Triblend T-shirts are the best on the market. And If you've ever held one in your hands, we're sure you'd agree! If our 100% cotton products are good, our Heather CVCs are better and our Triblends are best. This fabric is a blend of three types of yarn –  50% polyester, 25% combed and ring-spun cotton and 25% rayon. You get the comfort from the cotton, durability from the polyester and the luxurious drape from the rayon. Did you know that rayon was originally developed as a substitute for silk? Well that's what gives our Triblends such a silky feel.
The BELLA+CANVAS Triblends are knit with a 40 single needle, and we're actually the only brand in the industry to offer that. The higher the single, the finer the fabric, meaning there's a really silky hand. Similar to a Heather CVC, Triblends have a really subtle texture. The reason for this is because the natural and the synthetic fibers take the dye differently, so when it's knit, there's a really nice heathered look to it. However, while most of our Triblend tees have that texture, we also have engineered our dying process so that, at times, the natural and synthetic fibers take the dye in a way that results in a solid color. We're actually the only brand in the industry to offer a solid Triblend, which gives you that same great hand but a solid color to print on. If you're looking for premium, our Triblend is the way to go! You can view the entire collection HERE.
Fabric Type: Flowy Poly-Viscose
If you're familiar with BELLA+CANVAS, you've probably heard of our Flowy collection. But what exactly does that mean? The Flowy collection is made up of our poly-viscose fabric, which is 65% polyester and 35% viscose, 30 single and 3.7 oz. What's unique about this material is that is has an extremely soft, silky hand that feels like an elevated fabric that you find in retail stores. Our Flowy styles also drape away from the body, giving it that slightly oversized fit. That means, no matter what shape or size you are, you can find a piece in this collection that works for you!
For the past seven years, there have only been women's styles made in our Flowy fabric, but we recently added a poly-viscose unisex tee to our FWD Fashion collection. If you're a sublimation printer, this is the best tee for you!
Fabric Type: Slub
At one time, slub yarn was considered defective yarn that would (sadly) end up on the cutting room floor. Now, it's responsible for one of the most popular fabrications in manufacturing and has become a top selling signature fabric for us at BELLA+CANVAS. This unique texture is made up of 50% polyester, 37.5% combed and ring-spun cotton and 12.5% rayon. It's knit in a certain way to give a really tonal texture. Since this fabric boasts an uneven surface and slightly sheer appearance, it creates really cool printed designs that give off that worn and vintage-vibe.
Fabric Type: Marble
Marble is another one of our signature textures. This fabric has great dimension and is awesome for graphic tees. It's made from 91% polyester, 9% combed and ring-spun cotton. It's a 30 single and 4.0 oz., so it has a really soft hand and cool texture. While a lot of other brands have Heather CVC, Triblend, and 100% cotton options, but no one else offers dimension like we do!
Check out the video below for more details on these fabrics, and let us know if you have any questions in the comment section!