We know direct-to-garment printing works best on 100% cotton, and there's no doubt that our 3001 100% combed and ring-spun cotton tee is the best in the industry for DTG. But BELLA+CANVAS is also famous for making amazing blends, like our Heather CVC, Triblend and Flowy. We notice that DTG printers are now itching to include some of these blends in their offering. These types of fabrics not only feel amazing, but many customers prefer them to 100% cotton! Read on to learn more about DTG printing on different types of fabric.
DTG PRINTING INDUSTRY TRENDS
In general, people want as many options – from fabrics to cuts – as possible. Customers, and printers alike, don't want to be limited to just a standard 100% cotton t-shirt. Also, a lot of printers we work believe there's been a big shift in the industry towards a softer, lighter weight garment.
TESTING DTG PRINTING ON DIFFERENT TYPES OF FABRIC
In this video, we teamed up with The Dream Junction and Kornit to get some insider tips on printing on BELLA+CANVAS blends. The Dream Junction, one of the largest DTG printers in Southern California, spent more than four years testing different garments to get the best results. At The Dream Junction, where they print up to 15,000 T-shirts a day, each tee prints with specific levels.
First, the machine needs to be adjusted to the right pretreat level, which can range from 1% up to 200% saturation. Then, the ink level has to pair correctly with the percentage of saturation from the pretreat. Finally, there's a drying setting on top of that. The Dream Junction continues to test different types of fabrics. When given a new T-shirt, their team adjusts each printing variable by tiny amounts until they land on the best result possible. Those settings are then stored in the machine and pulled up whenever that exact style is scanned.
DTG PRINTING ON BELLA+CANVAS BLENDS
BELLA+CANVAS blends print very similarly to our 100% cotton tees. Since our synthetic material acts more like a cotton than a plastic, our blends absorb the pretreat very well. As Blair from The Dream Junction explained in our video [link to video], the BELLA+CANVAS Triblend is completely smooth. Unlike with silk screening, where you're pushing and laying down the fibers, the DTG ink is shot down, so it lays on top of the fabric. Also, since the ink is water-based, it will react with the shirt. That means, if you're looking for a vibrant print, you should first put down a white underbase. If vintage is what you're going for, then let the ink react directly with the shirt.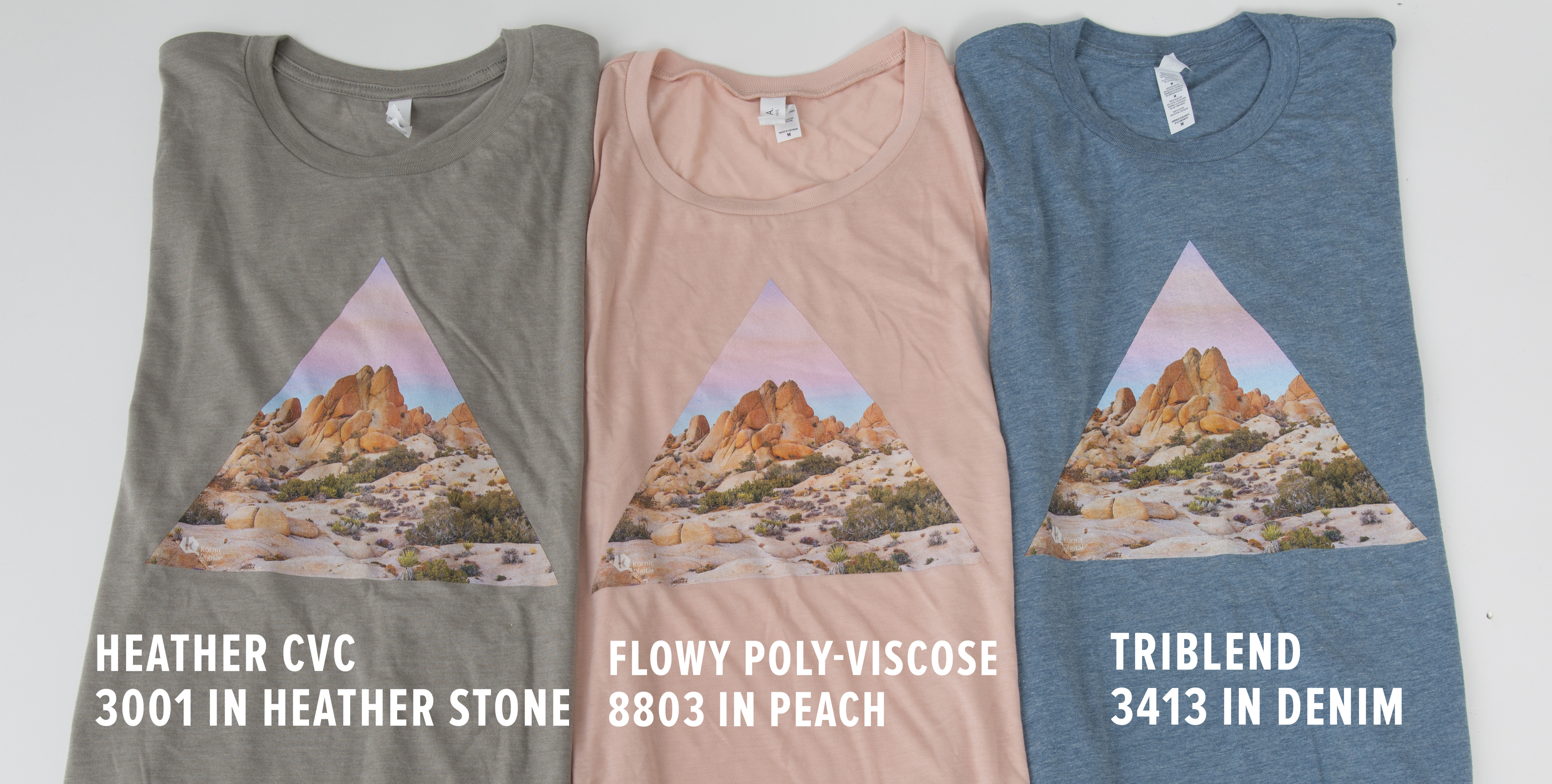 For those printers looking to explore DTG printing on different types of fabric, the key is to experiment! Don't be afraid to test all of the levels and try out different fabrics. But don't forget to do a wash test! Particularly with blends, some ink may come off. The Dream Junction looks for a solid color layer, because sometimes if you don't have the right level of pretreat, the ink won't adhere to the fabric completely. You can also do a scratch test to make sure the ink is completely blended into the fabric.
If you're looking for more insider tips about printing on blends, check our video with The Dream Junction and Kornit below!