The political climate is shifting and one of the most common questions we get is where our garments are made. And because we're all about transparency at BELLA+CANVAS, we wanted to shine some light on our American made shirt's supply chain so you know exactly where our tees come from!
USA Manufacturing
American made shirts are something we believe in deeply, which is precisely why we've dedicated immeasurable resources to growing our domestic sewing during the two-plus decades we've been manufacturing tees. We employ over 1,000 people in our Los Angeles facility, including our domestic sewing operation that yields an astounding 10 million units per year. What's more? We also have a Made in the USA Collection that is dyed, cut, and sewn in the US, and our private label program is totally USA made as well.
Hybrid Manufacturing
We've developed a hybrid approach to our manufacturing that utilizes America's strengths along with the strengths of our international partners to create the highest quality product, at the best price, all while supporting US jobs.
Sourcing American Made Shirts:
We source fiber yarns and knit yarns from sources locally and from the best suppliers around the globe. Because our sourcing is not restricted by any trade agreements, we have the ability to access the highest quality raw materials in the world, and in turn, make best fabrics in the industry.
Dyeing American Made Shirts:
We dye our American made shirt's fabric locally (in Southern California) using the most efficient dyeing equipment available. For every pound of fabric dyed, we only use 3 gallons of water, which is 2-5 times less than other apparel manufacturers. To ensure the highest level of consistency of color, our color matching is all computer driven. Every fabric lot is color matched using automated equipment and checked on a lot by lot basis for consistency.
 Cutting American Made Shirts:
Almost all of our cutting takes place right here, at our Los Angeles manufacturing headquarters. We have the most advanced cutting facility in North America and have developed proprietary software and cutting tables that allow us to cut an absurd number of garments, about 3 million,  a week with unmatched precision. We utilize automated technology that makes it possible for all cutting to be done by machine, and after the blade precisely cuts the fabric, it makes small notches indicating exactly where the pieces should be lined up when sewn, ensuring perfect construction.  Having the dyeing and cutting processes in our backyard (literally!) allows us to produce American made shirts with the utmost attention to quality assurance.
Assembly:
Cut fabrics are then assembled locally or in other sewing facilities in the north and central American regions. Our quality control team is in every factory ensuring the sewers are finishing garments with the exacting quality that the BELLA+CANVAS brand is known for. Also, the neck label on each BELLA+CANVAS piece lists the country the garment is sewn as country of origin. That said, a BELLA+CANVAS tee with a tag that says "Nicaragua" still has USA-made elements to it.
Off-the-Shelf and Ready to Ship:
Once the garments are sewn, they return to our US headquarters to go through a final round of quality control. They're then sent out to our distributors or stored in our massive distribution center in LA, so when a customer places an order, it's ready to ship that day. We have over 100 million garments in stock so you can always order with confidence!
The result is a first-tier global operation led by technology and data – all available in Los Angeles. If you are in the LA area, we'd love for you to stop by for a tour! Interested? Reach out to [email protected].
Check out our new brand video for what makes us different!
Summary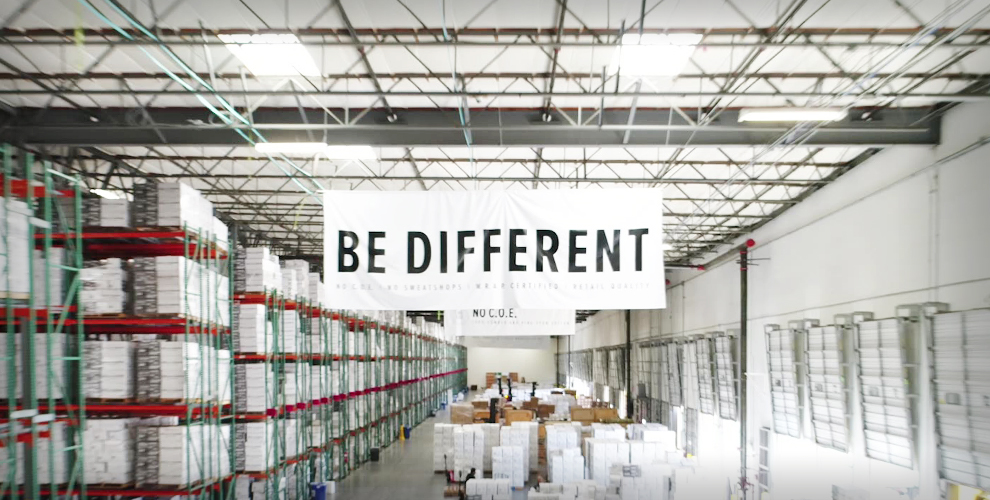 Article Name
Where is BELLA+CANVAS made?
Description
We're all about transparency at BELLA+CANVAS, we wanted to shine some light on our American made shirt's supply chain so you know exactly where our tees come from!
Author
Publisher Name
Publisher Logo