Eco-Friendly Dyeing: The Making of a Tee
Did you know we use eco-friendly dyeing to dye our apparel? At BELLA+CANVAS, we pride ourselves in our innovation and differentiation. One way we do this is through our eco-friendly dyeing practices. We visited our dye house in Los Angeles to see all the amazing ways we conserve energy, save water, and still create the best apparel in the industry.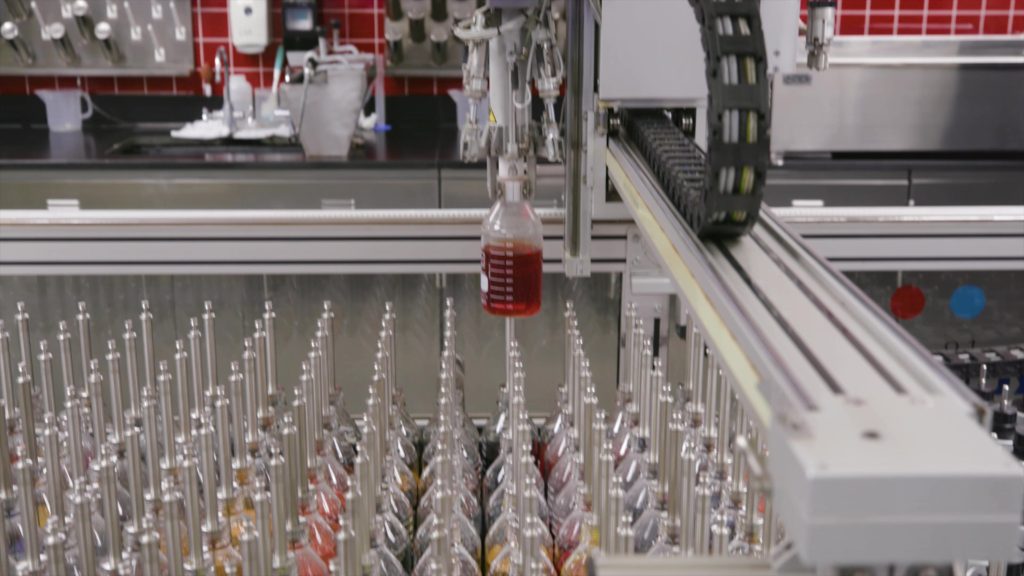 Color Development
We have a process that allows us to achieve color consistency across literally tens of millions of units.  In the design process, we come up with a variety of sophisticated on-trend colors. Digital swatches of our developing colors are sent to the lab where the color is brought to life on actual fabric.
Most dye houses are behind on technology advances and still send physical swatches to their dye houses. This means it's a human eye judging if one shade of blue is different than another, leaving room for error. Our dye house has an exact way to measure our digital swatches due to a color accreditation certification. Even though we make millions of units no matter where it's dyed or when it's dyed, True Royal will always be True Royal and Black Heather will always be Black Heather. Through our cloud based software, we assure a supplier's ability to accurately develop and execute color over the life of a product for global brands and retailers.
Quality of Dyes
Not all dyes are created equal. The quality of dyes used affects color fastness which basically means how fabric fades after wash and wear, and how fabric performs when printed.  The quality also affects the finished result of the garment. For example, if you wash your garment and it bleeds over onto your white t-shirt, that's a wash fastness issue.
If we used the same three dyes year after year, but another plant may substitute some other dyes to a cheaper product. If this is done, the shirt may still look like the same black but once you print on it you might get a totally different result. In order to avoid this approach, we don't skim, cut corners, or buy cheap dyes.
Dyes can also have harmful chemicals that are bad for your skin and the environment which is why we only practice eco-friendly dyeing and our dye house is Blue Sign System Certified. Blue Sign is a company that certifies companies all over the world to basically use the most eco and environmental friendly products  on the market. It's a system for a sustainable textile production the eliminates harmful substances from the beginning of the manufacturing process. It sets and controls standards for an environmentally friendly and safe production.
Color consistency is created by eliminating all variables during the fabric dyeing process. We use identical machines and a completely automated process to achieve ultimate color consistency. Typical dye machines require a large amount of water to push the fabric around but ours use a mechanical system which allows us to consume 7 times less water than our competitors.  We
save 24 million gallons
of water a
week
through our mechanically driven machines. This means we are not only saving water but have less waste water to treat and clean and since we dye everything in California we can guarantee none of it is getting dumped back into rivers and oceans.

Drying and Finishing
Our shrink drying process is something you won't find anywhere else in the industry. We're the only manufacturer to use open width shrink drying chambers, allowing us to make side seam tees that won't twist or shrink after being washed.  The shrink dryer is shrinking, pre-shrinking and drying the fabric at the same time. It also gets rid of the torque which is when a shirt twists after wash. This is a big problem with tubular tees and side-seamed tees that don't use these shrink drying chambers. You won't see torque in BELLA+CANVAS tees.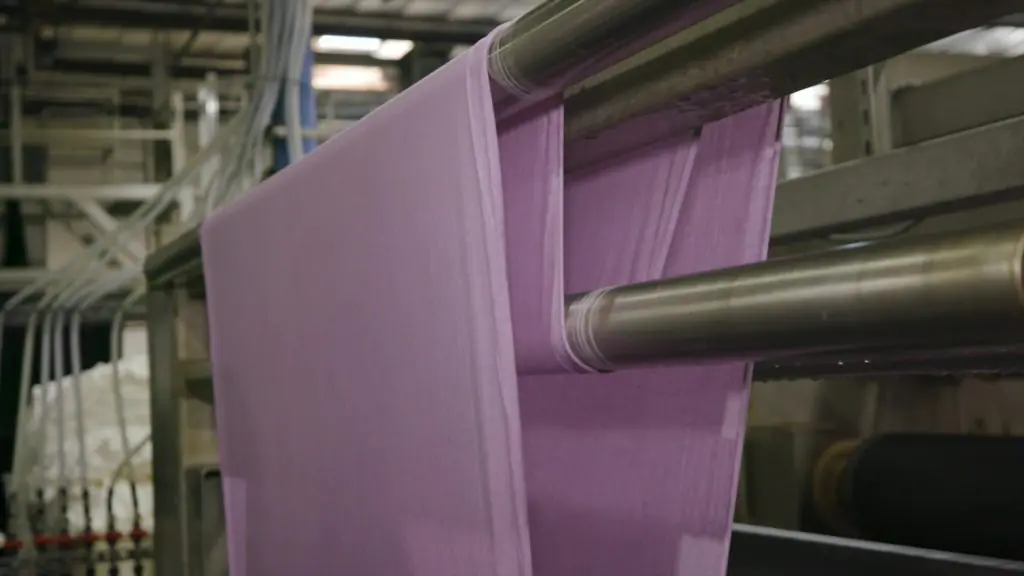 The shrink dryers we use are a million dollars each so most manufacturers skip this step. This is why high shrinkage and the twisting of garments after wash-and-wear is such a common issue with t-shirts. Our shrinkage is less than 5% in length and width, much less than industry standard.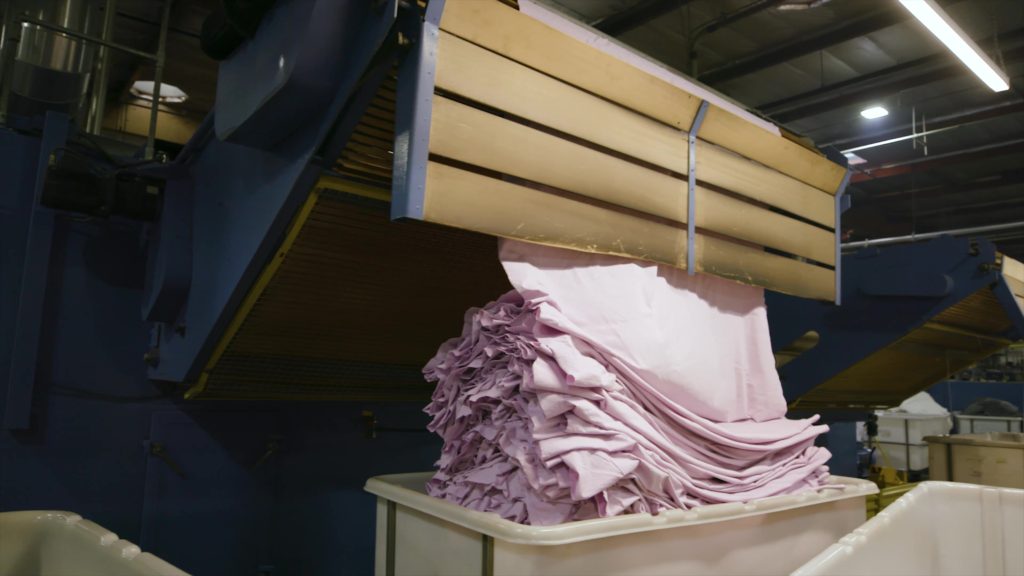 Eco-Friendly Assurance
In some dye houses, waste water is not treated, harmful bits of fabric get sent to the ocean or lint from the dyeing process is burned creating air pollution. At BELLA+CANVAS, we filter and treat all waste water. Then, remaining fabric fibers are incinerated in a thermal oxidizer creating the energy used to reheat the dye machines.
Producing in California like we do, you have to abide by air quality standards. Our eco-friendly dyeing process goes like this:
– collect the air from the dryer
– pipe it into a burner that heats the air up
– we burn the oils that remain in the air to create energy
– Energy gets captured in a boiler
– the boiler creates steam
– and to steam heats the dye machines
We collect energy, clean up the air, create steam and the steam is reused instead of wasting the energy of drying fabric.
Our eco-friendly dyeing process is just one of the many ways we work on protecting the environment while still giving our customers the best quality products. What type of eco-friendly practices do you use? Have additional questions on our process? Ask in the comments below!
Subscribe to our YouTube channel HERE!
Check out our site for more products HERE.
Want to learn be about BELLA+CANVAS? Click here.
To learn more about our ec0-friendly practices at our Headquarters, read this article!