Why a Fabric Face Mask Works
Welcome to our new normal. Let's face it. You're probably not thrilled about wearing a fabric face mask. And unless you're in the medical field, you're not even used to wearing one. We get it. But we all know masks, along with social distancing and frequent hand washing are key to helping us all head back into society.
In April 2020, the CDC recommended all Americans wear cloth face covers and practice social distancing to help slow the spread of  COVID-19. After the president declared a state of national emergency, BELLA+CANVAS shifted our manufacturing focus from T-shirts to face masks literally overnight to help solve the shortage. Now, we're making 20 million every day. But first, we got a crash course in all things face masks. We did extensive research. We talked to experts at the CDC and FDA about how to create the best face mask possible.
In this blog, we'll share our findings to help you navigate this new world of face masks. We'll break down the pros and cons of the most common options: the N95 mask, paper medical masks, sewn fabric face covers and the BELLA+CANVAS no-sew fabric face cover.
The N95 Mask
Yes, this mask offers the most protection. However, N95s are designed for the medical professionals risking their lives on the front lines. These masks are not meant to be worn all day by the average person.
Three-Ply Paper Surgical Masks
These masks are affordable. You wear it once and throw it away. That's great from a savings and hygiene perspective. However, like N95s, paper masks are for hospital use. Translation: They're not comfortable. They're not super-breathable. The paper feels scratchy against your face. And the uncomfortable elastic bands that go over your ears aren't always a one-size-fits-all. And let's face it, if we're all out wearing these medical masks, it's a constant reminder that we're living during a pandemic. These masks make people look sick, not healthy.
Plus, the CDC specifically stated that the cloth face coverings it recommends aren't surgical masks or N95 respirators. Those are critical supplies that must continue to be reserved for healthcare workers and other medical first responders.
Sewn Fabric Face Mask
Lots of people are making their own fabric face covers in fun colors and unique patterns. You can even learn to make your own on the CDC's website. Yes, sewn fabric masks rate high on the comfort scale. They're soft, pretty breathable and fashion forward. However, they require more hands-on care than disposables. The CDC recommends that we wash cloth face covers after each use. But you probably don't have the time to put your mask through the washer and dryer everyday.
BELLA+CANVAS No-Sew Fabric Face Mask
First, we tapped into everything people love about fabric masks—comfort, breathability, stretch and the look of a wellness accessory. Then we added in the benefits of an inexpensive disposable mask you use for a day and toss.
Here are the top five reasons our mask is one of the best options out there:
They're extremely breathable. We're confident in our product, since the CDC recommended fabric face masks to help slow the spread of COVID-19. In addition, independent third-party testing verified that our masks rate extremely high on the breathability scale.
They're hygienic and disposable. 

We learned that reusable masks can be hazardous unless you wash them 100% properly. Otherwise, contaminants remain on the mask. 

As a result of this risk, and the liability for companies, we're producing single-ply masks, made with zero human touch. We also wanted our no-sew masks to be disposable—the most sanitary-use method. That's why you'll see restaurants providing a new face cover to every employee on each shift.
They're comfortable.

At BELLA+CANVAS, we're known for ultra-soft fabrications. 

We're cutting face covers from our high-quality, eco-dyed Airlume combed and ring-spun fabrics for the most lightweight, comfy feel on your skin. We've got a jersey option and a heavier fleece option. A one-size-fits-most design with two ear holes and a contoured shape makes our face cover versatile for many different face sizes and shapes.
We already mentioned that they are affordable, right? Our face covers are priced right—you can grab a week's supply for the same price as many reusable fabric face covers.
They're stylish wellness accessories. 

Imagine a world where everyone's wearing a light-blue surgical mask. Talk about living in a perpetual pandemic state of mind. 

We designed our face covers with aesthetics in mind. For as long as we need to wear these daily-wear wellness accessories, we should feel good in them, right?
Listen, if we all wear face covers, we can protect each other as life gets back to normal and we head back into the world.
We can work together to stay healthy and happy.
We can work together to flatten the curve.
___________________
Resources to help:
Looking for specific product? Try our product locator.
Need to product shipped near you? Use one of our distributor partners.
Want to learn more about our USA manufacturing? Learn about our process. 
Have any questions or concerns? Email us at [email protected].
Summary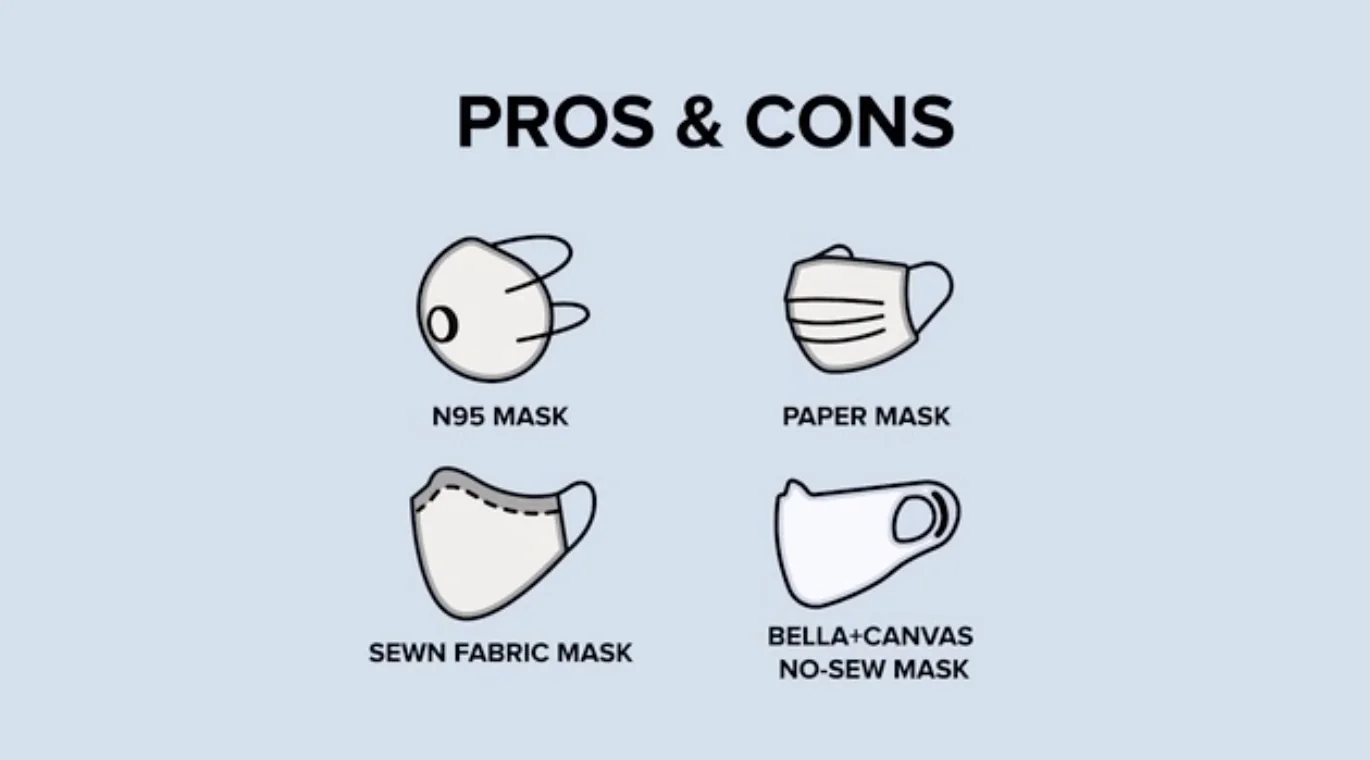 Article Name
Fabric Face Mask vs. Paper: Must-Read Comparison
Description
In this blog, we'll share our findings to help you navigate this new world of face masks. We'll break down the pros and cons of the most common options: the N95 mask, paper medical masks, sewn fabric face covers and the BELLA+CANVAS no-sew fabric face cover
Author
Publisher Name
Publisher Logo