BELLA+CANVAS, a well-known giant in the wholesale apparel industry, just opened its first retail store in Beverly Hills. The location's upscale warehouse design is a nod to BELLA+CANVAS's roots in Los Angeles, where the apparel is designed, cut and dyed. The retail collection embodies what BELLA+CANVAS is known for: clothes that meld comfort and fashion. With the boom of opportunity in the leisure space, it's the perfect fit.
What Does The Retail Line Offer?
The retail line, while separate from the wholesale collection, offers men's and women's styles in the same in-demand, signature fabrics you know and love. You can expect to see fabrications such as Airlume Jersey, Triblend, Sponge Fleece, Vintage Slub and Flowy. Their new retail store houses a curated collection of soft, sustainable comfort basics, with a street-cool edge. The men's and women's foundational styles come in a sophisticated, on-trend color palette, complete with pops of tie-dye patterning.
Why Expand Into Retail?
In 2019, after years of requests from people who discovered BELLA+CANVAS' high-quality hoodies and tees by way of branded apparel and wanted access, BELLA+CANVAS expanded into retail with an online-only, direct-to-consumer e-commerce site. Before that, the brand's high-quality apparel was only available through wholesale channels to customers with a business license. Now, the opening of the flagship Beverly Hills retail store is the next step in BELLA+CANVAS's long-term roadmap to open several physical locations, including additional popup stores in 2021.
"With our expansion into retail in 2019, we've answered the call from buyers who experienced our wholesale apparel and wanted to buy our styles at retail," explains Co-CEO and Co-Founder Danny Harris. "Since we started making apparel more than 25 years ago, we've prided ourselves on turning out the most exceptional retail-quality basics. Our move into the retail space will ultimately drive more brand awareness and recognition in wholesale channels. It's an exciting time for us, in both wholesale and retail channels, and for everyone selling and distributing BELLA+CANVAS apparel."
What's Next For BELLA+CANVAS Retail? 
BELLA+CANVAS will launch additional pop-up retail stores in 2021. The continued expansion into retail as a long-term growth strategy for the wholesale side of the business. Business-to-business customers can continue to shop at wholesale prices. "Our Beverly Hills flagship location is the first of many BELLA+CANVAS retail stores," says President Chris Blakeslee. "Our retail expansion has generated a whole new level of brand awareness for BELLA+CANVAS. That demand, without a doubt, will continue to funnel back through our wholesale channels."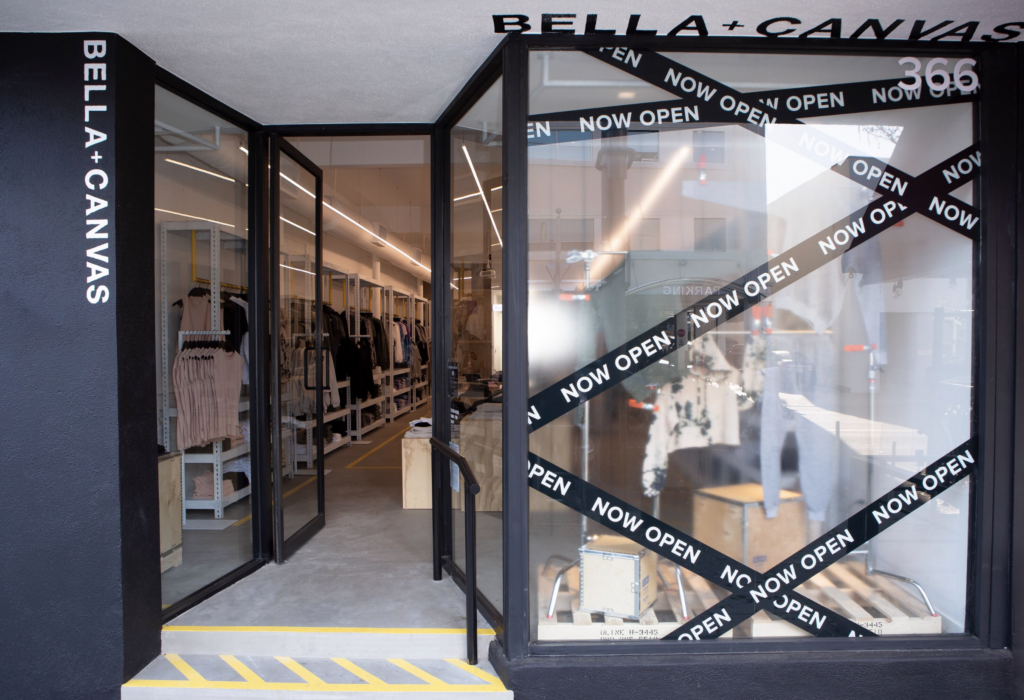 Where to Find Us?
Check out the new retail site at shop.bellacanvas.com.
Big things to come for BELLA+CANVAS in 2021. Please come visit us and share the news with family and friends. We are right next door to the Alo store, open 10am – 7pm any day of the week! Find us here on Google Maps.
Read about when we launched retail first on an e-commerce site here