Shelby & Sandy: The Making of a Capsule Collection
Growing up in an environment where creativity was highly encouraged, Shelby & Sandy Murphy took their childhood influences and turned them into something special. Now, working out of a studio in Downtown Los Angeles, we take a look inside their world and how they transformed the art on their walls into a capsule collection you wear.
With a social following of 280k+ on Instagram, Shelby & Sandy are gaining traction. Despite the eye-catching talent and obvious fan growth, the brothers remain humble and attribute their inspiration to their happy childhood. Pulling from their daily lives, their vivid art is drawn from feelings of happiness which they hope others will experience when they see their art.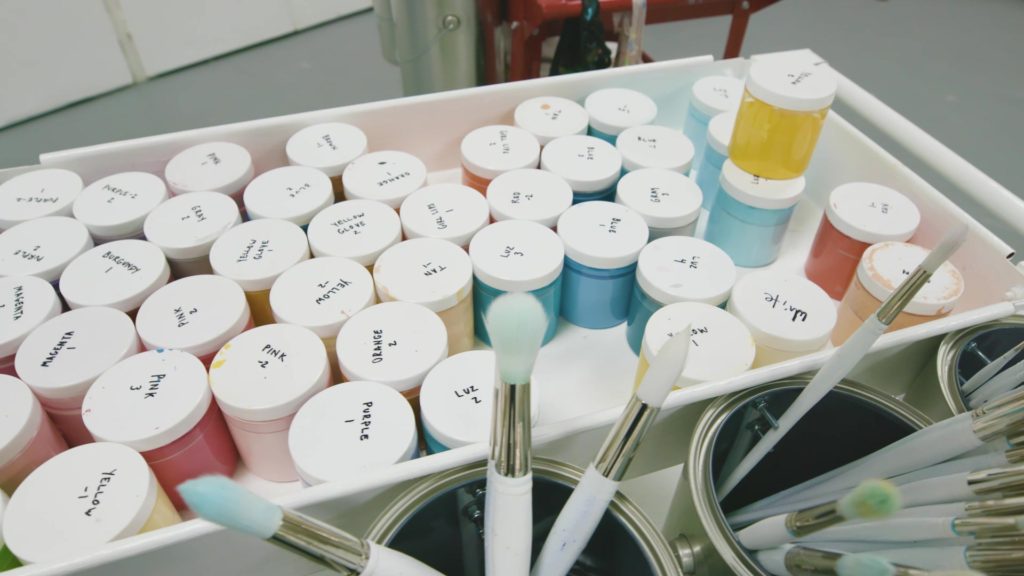 TWO BROTHERS, ONE VISION
When Shelby & Sandy knew they wanted to take their art to a new place they had a vision for it to live in their everyday lives through apparel. Embroidery was a no brainer for their design technique selection. It would give their simple designs dimension and personality which represents them as artists really well.
The Bella+Canvas line produced styles that Shelby and Sandy would wear themselves. It is inspired by the clothes they already wear so they wanted to be able to print high-quality artwork on blanks that were equally as high-quality.
They used three Bella+Canvas products: the 3001 tee, 3727 joggers, and the 3729 DTM hoodie.
Then, they added unique designs to each garment as a nod to their art.
The 3001 tee has a skull with a gold tooth embroidered because Shelby has a gold tooth from a time when he played basketball and knocked a tooth out. They're favorite holiday is also Halloween. "Shelby and Sandy are nice" on the 3729 Bella+Canvas sweatshirts, and on the 3727 joggers they embroidered their faces which is also their logo.
With the help of Apliiq, a printing studio in Los Angeles, their vision for the garments were able to come to life.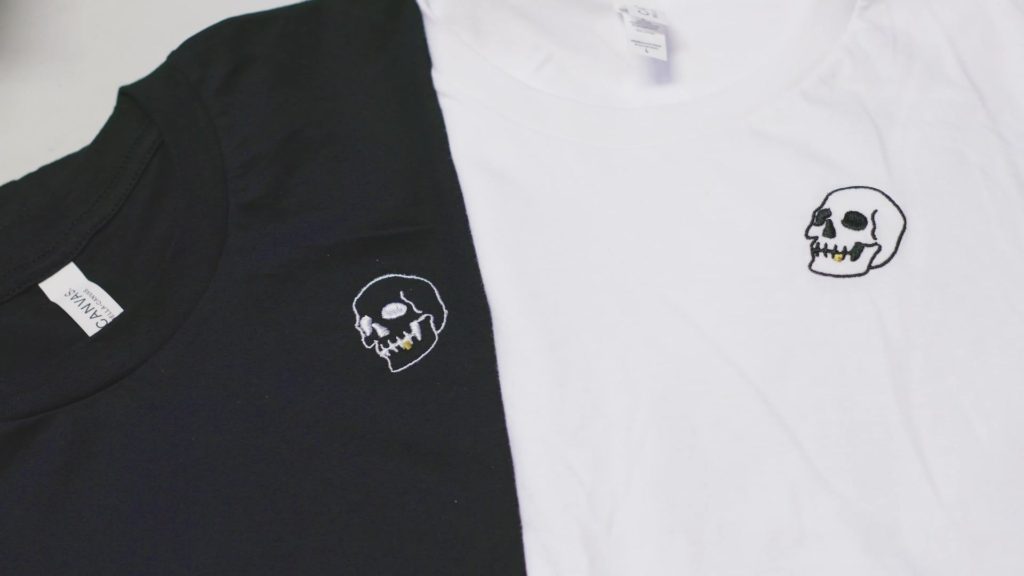 THE EXECUTION
When Apliiq was approached by Shelby and Sandy for their capsule collection, they knew that embroidery would give them the best results to highlight their vibrant style of art.
To achieve the animated effect Shelby and Sandy were looking for, Apliiq went with a variety of stitches. For the lettering on the "Shelby and Sandy are nice" tee, Apliiq went with a satin stitch, also known as a column stitch. The skull was also created using these stitches. To fill in the faces for Shelby and Sandy on the 3727 joggers, they used a fill stitch.
THE REVEAL
As Shelby and Sandy have a relaxed and minimalistic style, they knew that Bella+Canvas was the best option to chose for their base. They wanted their capsule collection to be similar to the style they already adopted for themselves. As their artwork is at a high quality level, they wanted their designs to be made on high quality garments as well.  
Watch our YouTube video here to see the full process of creating their capsule collection.
Other videos you might want to check out:
Screen Printing and Embroidery – Mixed Media T-shirt
Specialty T-shirt Treatment: Embroidery & Faux Chenille