Now more than ever, screen printing businesses are going eco-friendly as customers are growing more and more conscious about where their product is coming from and how it's made.
Here are a few simple changes you can make to achieve sustainable screen printing without breaking the bank.
How To Run an Eco-Friendly Screen Printing Shop
USE ECO-FRIENDLY INKS
Switch to water-based inks.  Bolder in color, long-lasting, and easier to use and clean after, this biodegradable option will degrade just as well as the cotton in the shirt you use to print on.
Traditional plastisol inks, while popular with screen printers and have improved over the years, is still pvc based and won't break down as easily as the pigment in water-based ink.
Adding a water filtration system to your washout booth can help capture and dispose the leftover particles from the ink, saving them from running directly into the city's sewer system.
California has some of the most strict EPA (Environmental Protection Agency) regulations, so if you're running your business out of California, this may come as a prerequisite.
WORK WITH SUSTAINABLE PRODUCT SUPPLIERS
Customers tend to choose businesses based on similar ideals and values. Here at BELLA+CANVAS, our mission from the start has been to provide sustainability for the long run, finding ways to reduce our carbon footprint every step of the production process, to bring you a product that you can wear as proudly as we are to make it.
It's no coincidence water-based inks are ideal for printing on natural fibers such as our Airlume Combed and Ring-Spun cotton, designed specifically for sustainable screen printing.
STAY AWAY FROM HARMFUL AEROSOLS
Check on the chemicals that help you clean. There's no point in cleaning up a mess if you're leaving one behind. There are cancer-causing chemicals in aerosols that are not only hazardous to the environment but your employees as well.
Eco-friendly cleaning supplies made up with green chemicals have never been more affordable and accessible only for a few cents more. So, what's that gonna cost you?
UTILIZE ECO-FRENDLY PACKAGING
Packaging is a big part of selling. Be mindful of the message you're sending when shipping out your product. There are plenty of options for recycled-based poly-mailers nowadays.
And for some of the bigger bulk orders, relabel the boxes your shirts are shipped in. It'll speak volumes in noticeable efforts of doing your part to reduce your ecological footprint.
At BELLA+CANVAS, our message is written on our boxes. By purchasing BELLA+CANVAS tees and reusing our shipping boxes, your customers will spot the difference.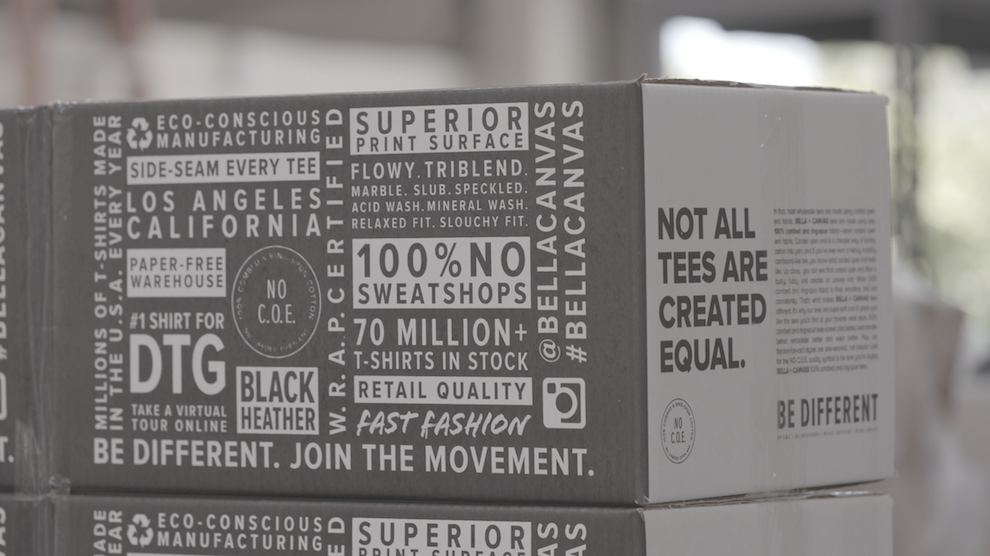 RECYCLE EVERYTHING
Be resourceful. Get creative. Use misprinted tees as rags. Save your leftover ink for smaller print tests. These little changes are not only eco-friendly but budget-friendly as well.
So, for those who think it's expensive to go green, it'll actually help you save more green.
Join us in our mission to make the best tees around while putting the Earth first, through every step of the process from garment selection to screen-printing. BE DIFFERENT. Choose BELLA+CANVAS.