While our T-shirts are our bread and butter here at BELLA+CANVAS, we're also really proud of our fleece products. From full-zip hoodies to crew sweatshirts and jogger sweatpants, we offer such a wide variety of garments in our super soft fleece fabric. We love the fleece so much ourselves, we are continuously looking to find ways to grow our offering. That's why we recently launched our cropped hoodie in the Fast Fashion collection! All of our fleece products are a printable, but some customers are unsure about how to print on them. Read on to learn about three different ways to print on our fleece fabric!
Tips to Printing on Fleece Fabric
The first thing to keep in mind is that printing on fleece doesn't work really well on manual presses, since the ink can get chunky. But those of you who have an automatic press can create a really successful print, especially if you keep in mind the importance of adding a thinner layer of ink. This will help keep the print clean and smooth. A lot of people also don't factor in the fluffiness of the fabric. As Cole from Shirt Agency explained in our video, it's important to adjust your off-contact. The off-contact is the distance between the screen and the fabric. You will want to test the off-contact level, and maybe even raise it up, to allow for a small space in between the two for the ink to come through and not get stuck to the fabric. And finally, don't forget to factor in the fabrication content and color you are working with and how those pair with different types of ink. All of these things will help create a really great print!
Plastisol Ink on Fleece Fabric
The most common ink to use on a hoodie is plastisol, since it's so user-friendly. It's the easiest ink to manage if you're just starting out, and it can produce a really crisp and bright image. During our video shoot at Shirt Agency, we used a low-bleed plastisol ink on our black cropped hoodie. In order to get a really bright print, Cole suggests doing one pass first, then flashing it for 4 – 6 seconds. Once it's cured to the touch, do a second pass on top that. Those two simple steps will create a nice print that is bright, but still thin to the touch. A great plastisol ink to use on our hoodies is by Wilflex from Ryonet.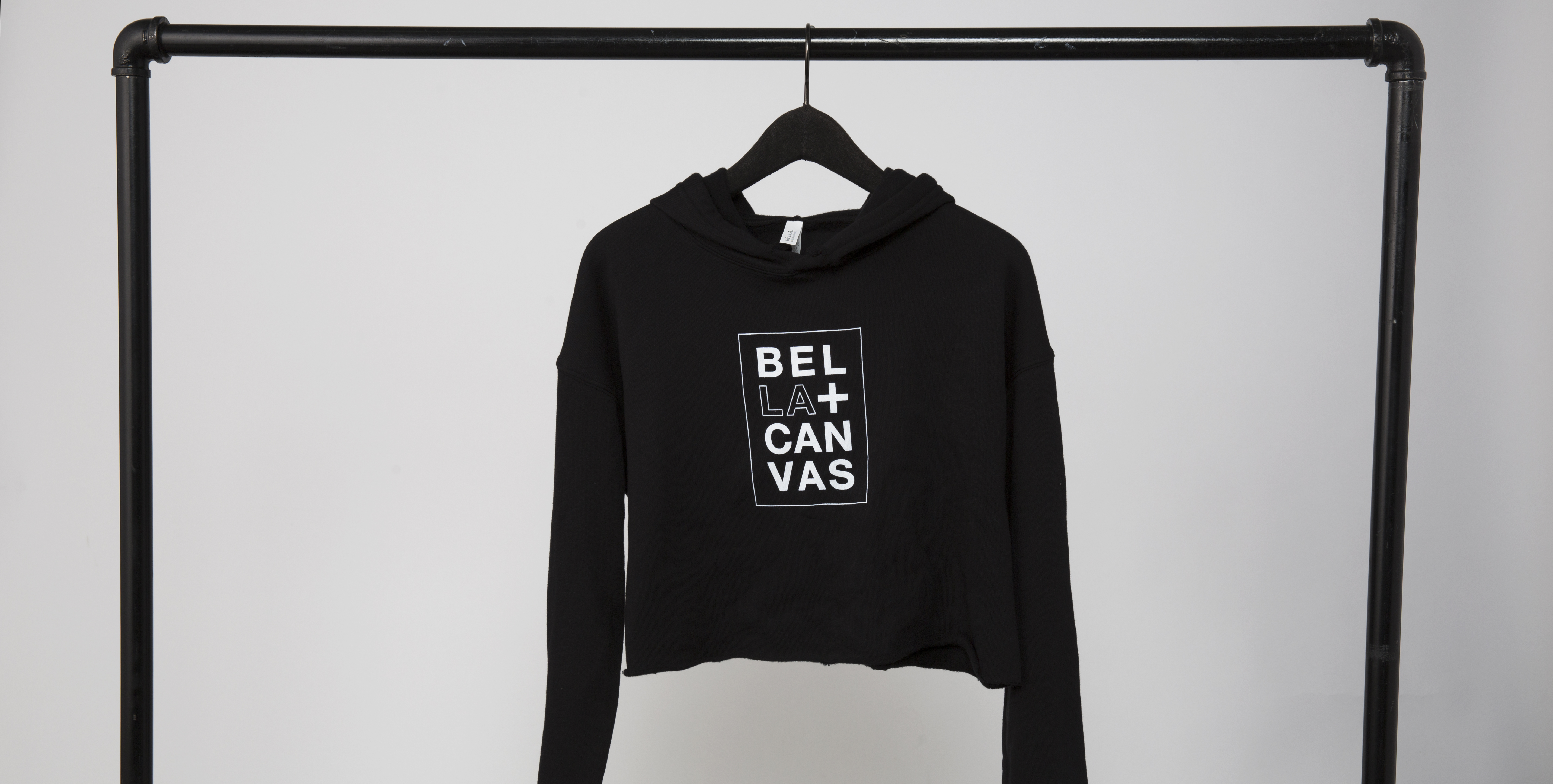 Water Based Ink on Fleece Fabric
Water based ink is best for when you're looking for a softer hand. The plastisol creates a thin layer of ink on top of the fabric that can be felt by the hand. Water based, however, is designed to wick into the fabric. Water based is great for creating custom color inks as well. During our video, the Shirt Agency team created a custom pantone color done with pigments that gave them an exact pantone match to a specific color they wanted to use on our peach cropped hoodie. A great water based ink is Green Galaxy, also sold by Ryonet.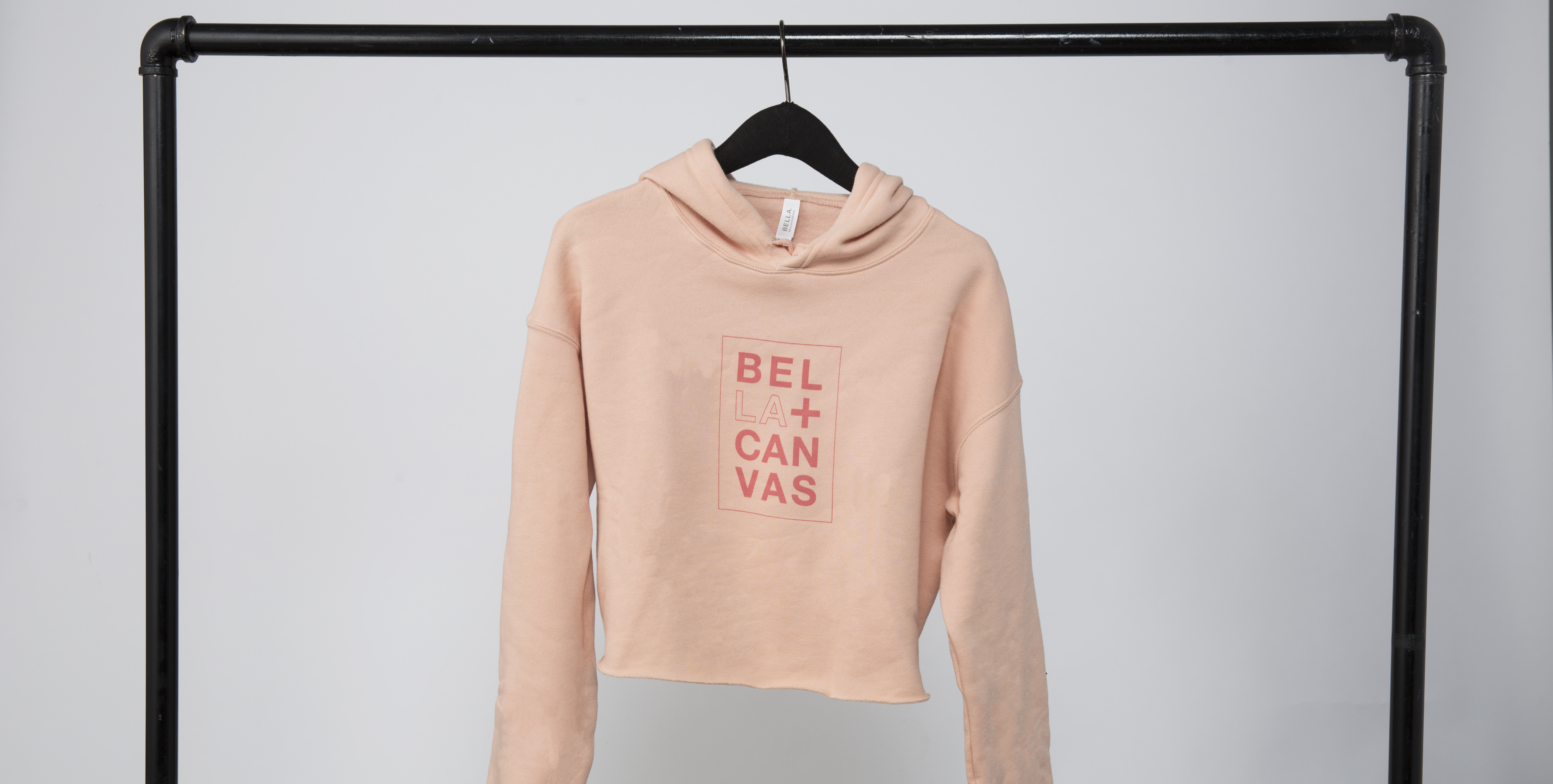 Discharge Printing on Fleece Fabric
If you're looking to print on a darker fleece, discharge is the way to go. Because discharge will strip away the pigment of the polyester, it's important to understand the fabrication content of your garment. Our fleece products are made up of 60% combed and ring-spun cotton and 40% polyester, so when discharge printing on them, keep in mind that the poly content will not only be stripped of pigment, but it also won't really hold the pigment that you replace it with. That will give the print more of a vintage-look, since the ink won't be as bright and vibrant on the fabric. While at Shirt Agency, we discharged on our storm cropped fleece hoodie, which turned out great!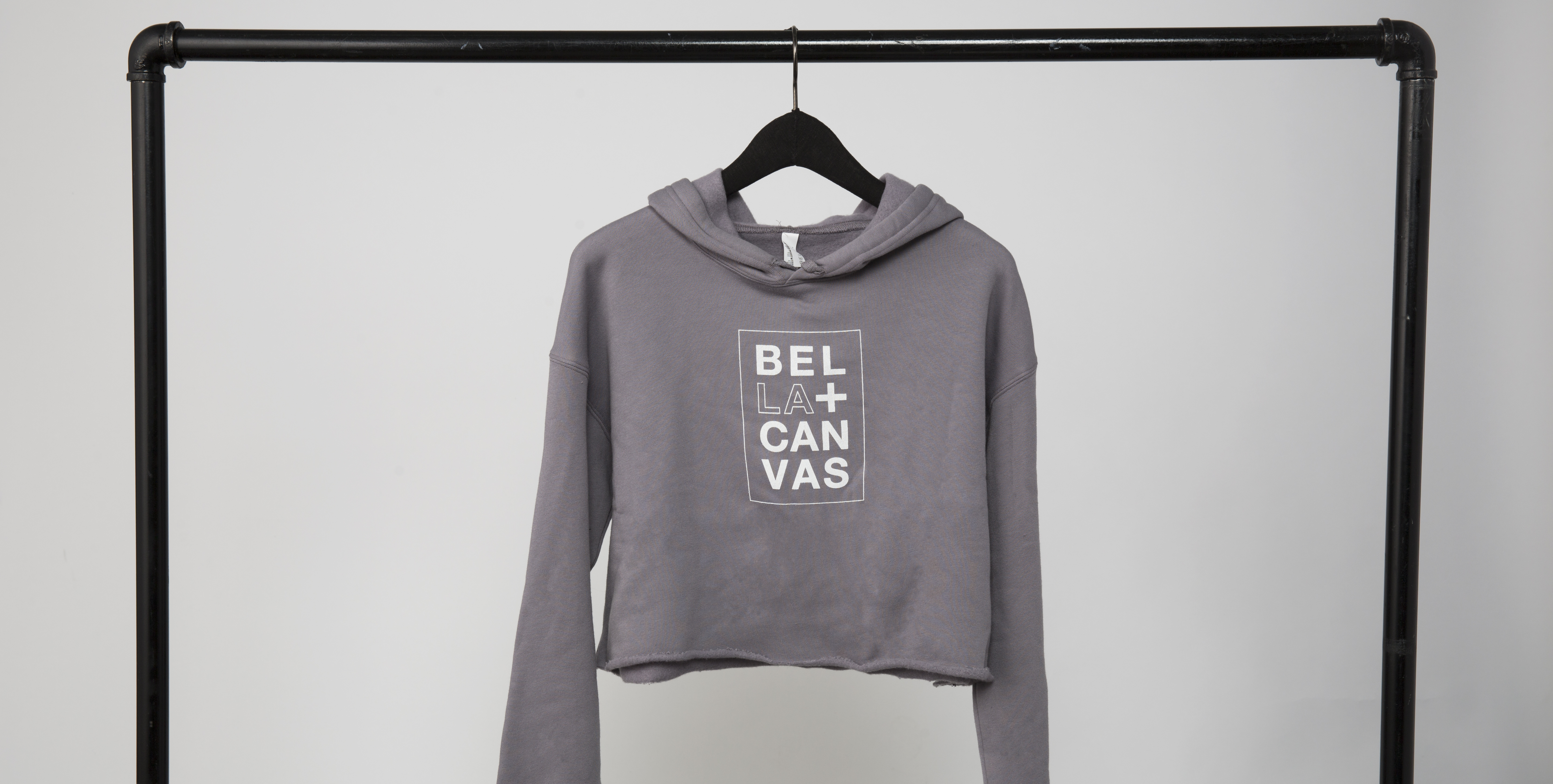 We also tested discharge printing on our pullover hoodie in one of our new colors – heather forest. Because the garment was dark, the discharge print was a bit more vintage-looking, which is awesome if that's what you're looking for. Generally, after washing, lighter garments are known to hold the pigments a little bit better, but with a darker fleece, a wash test showed how the polyester lets go of some of the pigment. You can see the difference before and after a wash test below.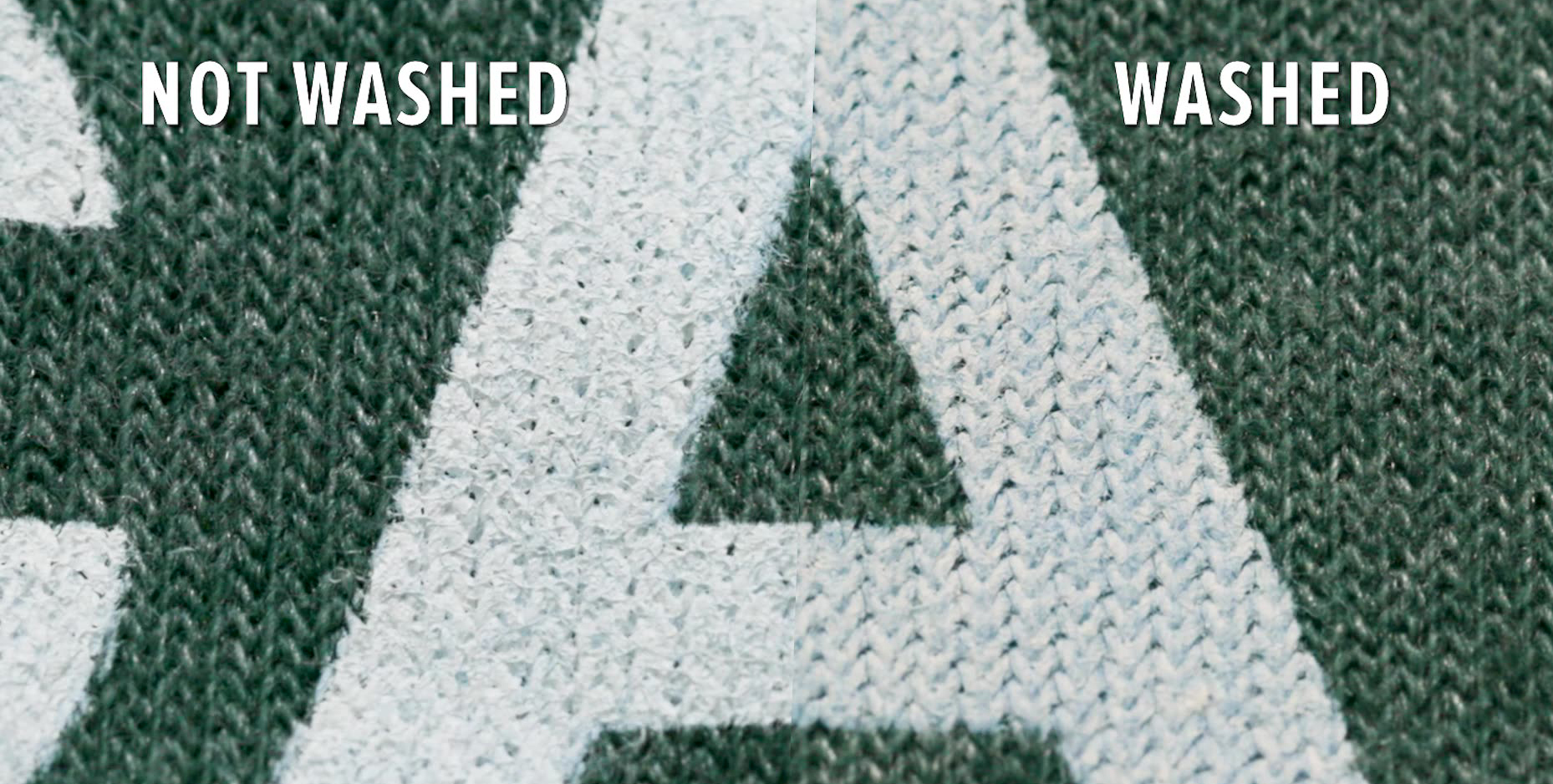 Check out more details in our video with Shirt Agency below, and let us know in the comment section on YouTube any follow-up questions you have. Don't forget to subscribe to our channel here!
Summary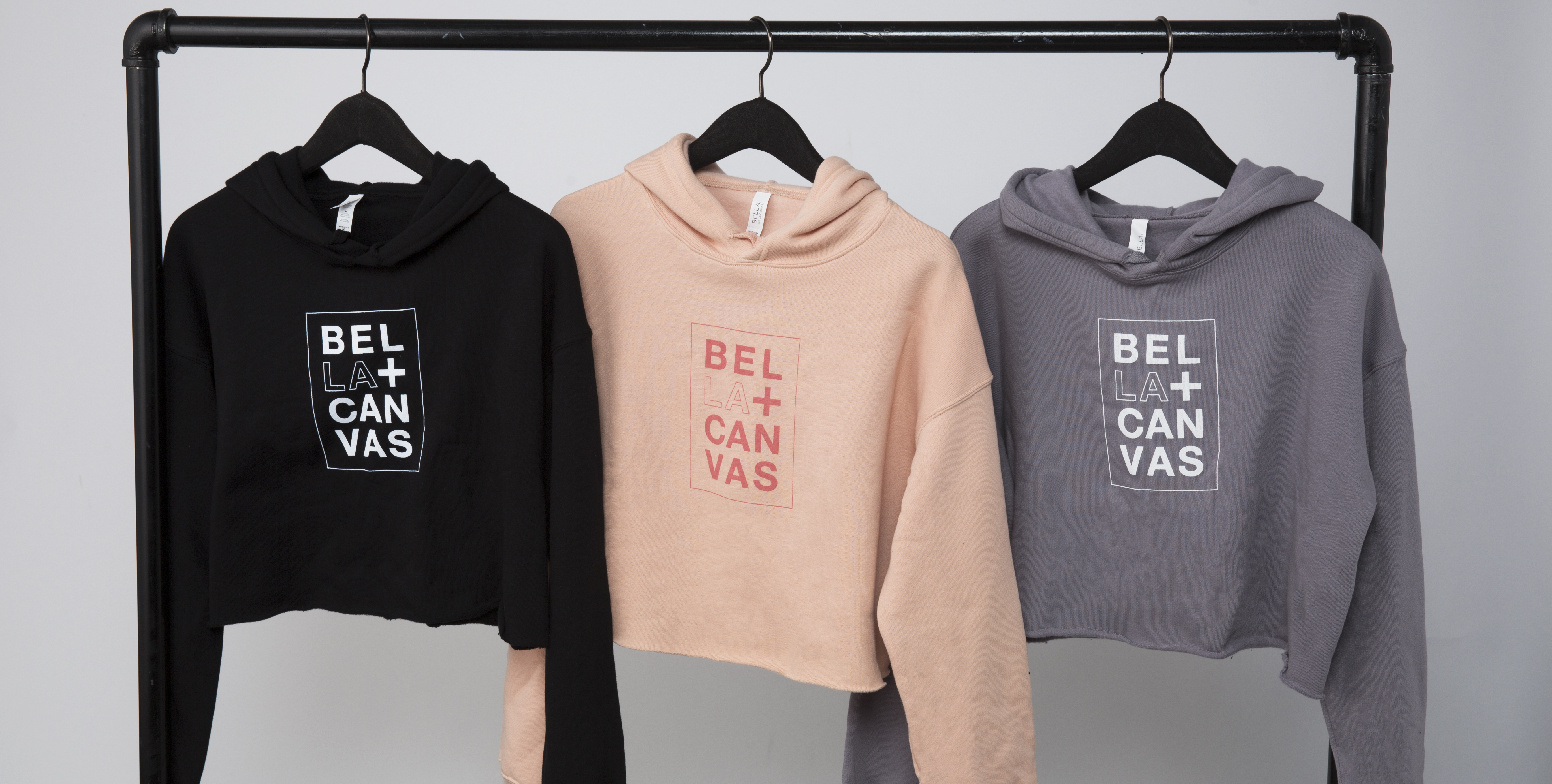 Article Name
3 Ways to Print on Fleece Fabric
Description
Learn about three different ways to print on our fleece fabric.
Author
Publisher Name
Publisher Logo