How This Print Shop Made $1 Million in 4 Years
Industry Spotlight: Printed Threads Owner Brett Bowden
Ever wondered how to improve your business success from a team of one to a team of 30 employees? Want to know the secret to success that nobody talks about? Our BELLA+CANVAS team had the privilege of sitting down with Brett Bowden, owner of Printed Threads, a print shop in Dallas, Fort Worth that has discovered a recipe for success that helped them double their business for four years. But not without some lessons learned along the way. A stranger to none, Brett candidly shared with us his personal voyage of launching Printed Threads out of his garage in 2010.
Where It All Began
"When I was in high school, I played music in punk rock bands. The way we would feel official? We had to make T-Shirts to sell at our shows. When I decided we weren't going to be the Rolling Stones, I figured I better find a new way to make a living," Brett explains. "I was getting through college as a cable guy, which is a really rewarding job if you're ever looking for a way to make yourself feel good at night, it's to install cable," he laughs.
"I came home and talked to my wife who said let's not be miserable. Let's figure out a way to make a living and be happy. So my wife and I went to the bank and we got a loan and we started Printed Threads in 2010 in the garage at our house on a red velvet road. Today, we're sitting in a 15,000 square foot shop with about 30 employees for automatic presses and printing; printing a whole lot of shirts."
Printed Threads 2010
Printed Threads 2019
Grow Your Business Success by Creating Culture
So how did Printed Threads find success? Brett credits that to the groundwork foundation laid down in the beginning. "You cannot build a 10,000 square foot house on a 1,000 square foot foundation. It's not possible. If you look at large companies like Apple and Google, what are they doing? If we want to be a large successful company one day, we need to emulate a lot of the things that they're doing. One of them is really important. It's establishing core values."
Setting Core Values
The core values of Printed Thread were determined by the core group of people that knew what the most important things about the company were. After sitting down together, they determined what makes our company different?  Here's what they came up with:
Driven by the crafts
Passion for progress
Deliver the right product at the right time
Be thoughtful
These values are a part of all Printed Threads job descriptions, no matter how small as Brett explains he wants them to sign saying that they are going to live by those values.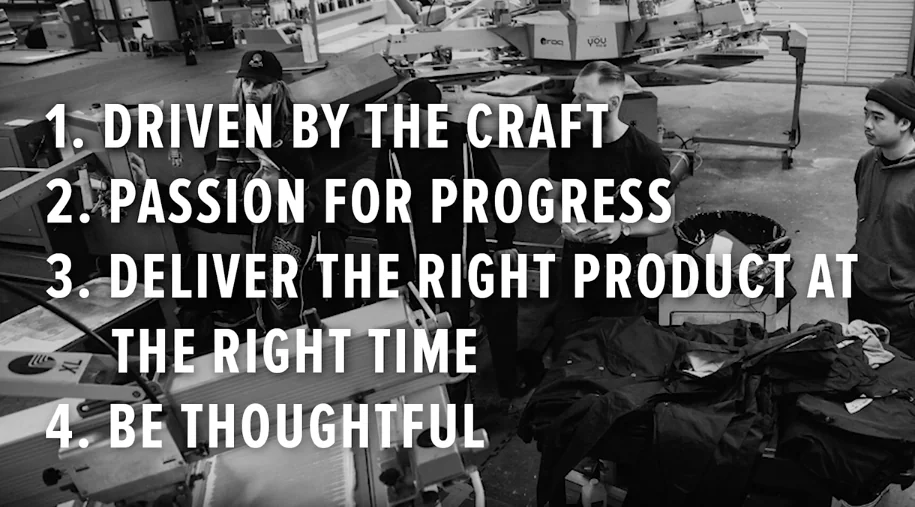 How to Maintain Growth: Structure is Key
What started as a side hustle began to grow extremely quickly. From $60,000 to $300,000, $600,000, to $1.1M, to $2.2M. When Brett realized the business was growing at a rapid rate, he brought on a business coach to help him grow his business from a "start-up" structure, to a "corporate" structure. From there, Brett and his team began working on the pillars of the business, core values, vision, departments, and organization.
"All these companies that are trying to be young and hip are building out these org (organization) charts that don't make any sense. What we need to know is who's the leader of the organization? Who do I go to when I have a problem? Who do I report to?" Brett explains, "We have to realize there are leaders in this company and those leaders care going to set the vision and steer the ship. When that person steers the ship, we chart a course and we head towards success."
Who Leads the Leader?
"It's lonely at the top," Brett explains, "You have to have people to steer you in the right direction. […] My board of directors is probably my wife, my banker, my CPA, and business coach."
Lastly, we asked Brett what advice he would share with someone new to the print shop industry like he was nine years ago in his garage. He suggested looking to authors like Simon Sinek of Start With The Why and really ask yourself why you're starting your business. "It's going to be very very difficult; maybe the hardest job that you could possibly choose for yourself. But it's also the most rewarding job you might be able to choose for yourself because you get to affect a lot of people and that can be really rewarding."
We hope that by sharing business success stories from other printers, you can learn from their experiences. Have you developed a system of core values with your shop? Let us know in the comments below!
_______
Create an account with Bella+Canvas here!
Join our Facebook Group, Bella+Canvas Insiders –  click here!
Read more articles here for additional business & marketing tips!