CREATING AN ATHLEISURE APPAREL LINE
It's no secret that athleisure is taking over the world and isn't slowing down. People of all ages and all demographics want comfortable lounge wear with a fashion edge. At BELLA+CANVAS, we release new silhouettes monthly that are right in step with this trend. The trick is knowing how to merchandise these styles into a cohesive collection. We have several key points we want to break down that are essential to curating a killer line of athleisure apparel.
Athleisure continues to grow in a wide variety of markets such as: college bookstores, fitness studios,  and higher-end retail stores like Nordstrom's and Urban Outfitters. BELLA+CANVAS remains ahead of trends with athleisure blank apparel options perfect for what's trending on the market. The fabrications, silhouettes, and colors provide a unique selection of options for your next (or first!) athleisure collection.
TIP 1: DIVERSIFY YOUR LINE 
A diverse line of apparel is super important to provide for your client or if you're the customer, important for your brand.  It's important to have a variety of fabrications and silhouettes in the apparel line, however, you don't want to be overwhelmed with too many options. Consider layering options to help keep the collection diverse but with capabilities of working together.
Color strategy for merchandising involves keeping your basics but adding that piece for an unexpected pop of color. People tend to buy colors like whites, grays, blacks, and natural colors as a safe bet. However, having an item or two that stand out will be the ticket for interest in sales.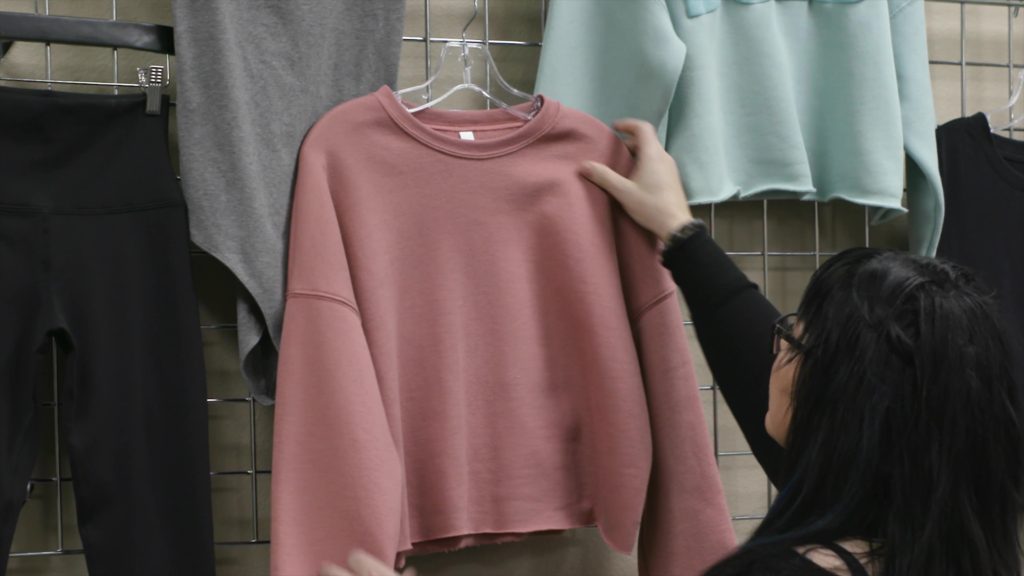 Too many multipliers of color options or silhouettes is a merchandising error people often make. The goal is to have your customer see the collection and want every piece as they fit together or at least buy more than one item.
TIP 2: 5 GRAPHIC DESIGN IDEAS FOR AN ATHLEISURE CAPSULE COLLECTION:
When designing graphics for a collection, start by research and look for inspiration from your search results. Check what is trending in the market by visiting websites like
Pinterest
,
Vogue
,
Elle
, and 
Who What Wear
. Watch runway shows like
Yeezy
, Off White and Puma for cutting edge athleisure trends.  Also, pay attention to the top trend setters in the industry and see what they're wearing. Based on research and trending styles, our friends at Eagle Promotions designed this mock collection with these five graphic trends.
– 
Bold
: Big and bold designs make for a statement making product. We (literally) made a bold print on our
#7503
in Dusty Blue by using a screen printing hack with puff ink to achieve an embossed look. Watch our
video
to learn this technique!
–
Sports inspired
: With athleisure, you can pretty much guarantee a sporty theme will be incorporated into a few pieces within a collection. Try using a sports team logo or jersey themes for designs to keep the athletic feel for the apparel.
–
Empowerment
: Sports and athletic culture tend to be more uplifting, goal focused and determined. A graphic design with encouraging words like "Active"  and "Power Mode" like shown on our 
#8483
 is a great example.
–
Japanese
: The Japanese letter trend is on the rise and we suggest jumping on this now before someone else beats you to it. This art is also shown on our 
#8483
.
–
Graphic placement
: We've talked about the importance of graphic placement on apparel before but we can't stress it enough. Going for a slightly different placement rather than center chest or left upper chest will really help set your apparel line apart from others. This unique touch will help elevate your line and create more demand. We used a variety of graphic placement locations on this collection as shown on our 
#7504
 and 
#6501
BELLA+CANVAS FOR ATHLEISURE
For this mock athleisure collection, we chose top performing BELLA+CANVAS garments and curated it based on current trends. For more information on these styles, click below!
#7504
 Women's Cut Out fleece Hoodie in Storm
#0813
Women's High Waist Fitness Legging in black
#0990
Women's Bodysuit (great for layering)
Subscribe to our YouTube channel HERE!
Check out our site for more products HERE.
Want to learn be about BELLA+CANVAS? Click here.