Create Custom Band Merch that Sells in 6 Steps
Do you have a favorite concert t-shirt you've only worn once? Are you a musician looking to upgrade your merch for your next tour? We know when artists print on BELLA+CANVAS, a lot more merch will sell, so we are setting out to transform the perception of band merch.
Here are 6 steps you need to know to create custom band merch that sells. 
1. Define Your Story
Having a branded story is crucial when creating a merch line. You'll want your audience to instantly recognize your band just by looking at the design. For example, Sure Sure uses this in their merch with designs such as their logo, illustrations of their faces, and tour dates that their fan base will recognize . This creates instant community through common interest by a physical representation their audience can take with them and share with the world.
2. Know your Audience
It's important to know your audience because they will determine whether or not your merch will sell. For instance, if  you have a millennial audience, a few things you will have to consider is quality for cost more so than any other sector of your end customer. Millenials are more conscious buyers so they are less likely to spend money on cheap quality, as millenials look at music merch as a long-term investment nowadays. You see this example with Sure Sure when they opt for high-quality blanks, that are soft and something customers will want wear.
3. Choose Your Blanks
We often see that band merch is a last thought. Cheap garments are selected, and the result is the fans keep the shirt stuffed in the back of a drawer or throw it away after being worn only once.
When choosing a blank for your merch line, there are a few key points to consider:
Fabrication

: Going with a soft, premium garment like a triblend, will make it more desirable to wear multiple times.
Silhouettes

: If there are tour locations in cold places, try a long sleeve or sweatshirt. If they are cold leaving the show then they might be more inclined to purchase something that makes practical sense. For hot locations try a muscle tank or flowy tee like you see at music festivals and summer concert series events.
Color scheme

: Choose colors that make sense with your band's visual identity. If you want to do your logo in a neon pink and blue like Sure Sure, make sure to select a shirt color that helps the logo pop.
4. Create Your Art
Creating a connection between audience and design is all about consistency.  Be sure to stick to concepts that aren't far from what the fans are used to seeing. Artists can occasionally get carried away with merch by adding in too many designs to one garment. Simplicity is not a bad thing here.  For example, Sure Sure's inspiration was taken from hand drawn elements, a frequent touch to Sure Sure's brand identity. The use of different colors for type and drawings mixed on a variety of t-shirt colors created a very playful look to the final collection of merch for Sure Sure's tour.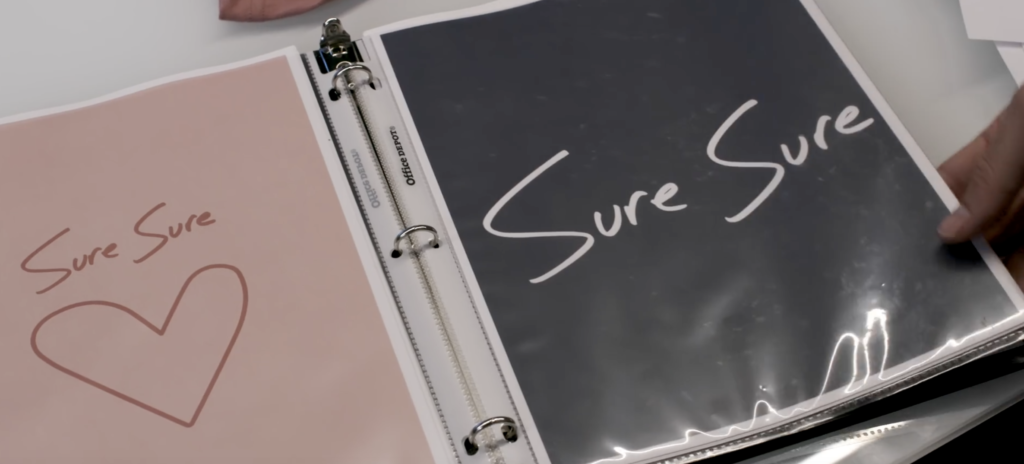 5. Print Your Merch
Having a simple design on a shirt is beneficial when printing merch as it cut costs down. If you are wanting to incorporate multiple colors on your merch, try to use it all in one placement on the garment. However, if you have one or two colors you wish to use, you have more freedom to print on different areas of the garment.
Knowing the right inks to use can change the texture of the garment which would alter the quality as well. Using a heavy plastisol ink on a soft premium fabric like a Triblend would not be an ideal combination. However, If you opt to use water-based and discharge inks when printing, this will create a smooth even finish on the clothes.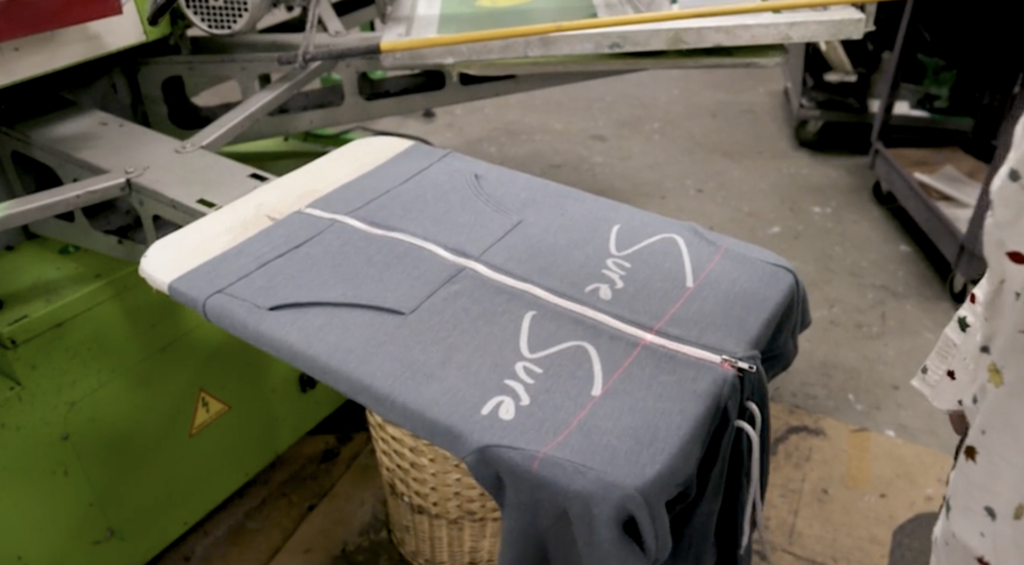 6. Merchandising
A table with a box of folded tees is not inviting and won't help with sales. Here are three things to keep in mind when setting up your merch booth!
Make sure the customers can touch the product. When they can feel the softness of the garment they know it isn't cheap and it's worth the price.
Custom signage can go a long way. Tags, and signs on the display that show the price, size and brand name of what your leaves an impressionable impact.
Wear merch in the booth! Customers want to see what the product looks like on and it shows a lot when the 

people selling the product wear it too.
Merchandise booths are a great way to engage with your audience. It is a great place for fans to stop by before and after the show so use this opportunity build relationships with your fans.