Heat Press for Street Fleece
Forward Fashion Trends by Stahls
Guest written by Josh Ellsworth, SVP Dealer Sales.
Metallic Film on the 3727 and 3719
Metallic finish heat transfer films are very stylish.  In this look we paired the CAD-CUT® Metallic with our best-selling heat transfer vinyl, CAD-CUT® UltraWeed on the 3719.  UltraWeed™ is the perfect core product for this high-end street fleece because of its soft hand and low temperature application.  The color selection used in this look is Metallic Black, which is more of a sport metallic versus the CAD-CUT® Metallic, shown here in gold.  CAD-CUT® Metallic is best described as a single step foil with an even shine and easy to use.  Although this fleece is a high-end fabrication, it can be difficult to screen print with foil.
By using a heat transfer vinyl with the foil layer already built into the adhesive, you can ensure consistent results without the risk of pinholes.  This single step foil, CAD-CUT® Metallic, is available in 10 colors.  STAHLS' has gone to great lengths to make this product as soft as possible.  Many heat transfer foils are rigid and crack when laundered, but this one does not.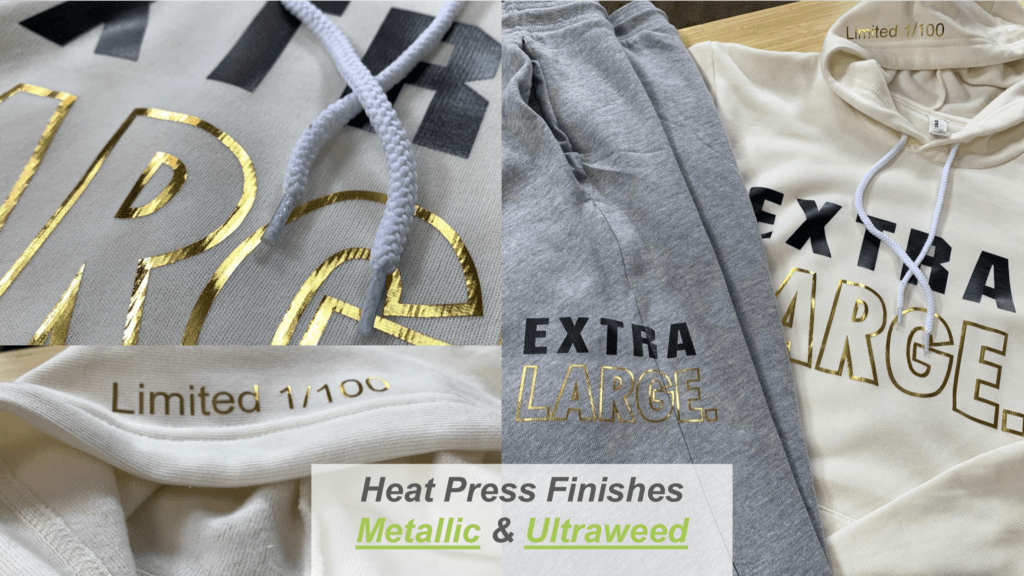 I'd also like to point out the limited-edition number that has been positioned on the hood.  This concept shows two important things.  First, heat transfer vinyl is cut per order, which is a great solution for variable data like numbering or any other type of personalization making it cost effective to do one piece.  Secondly, the placement is key.  With the right heat press and platens, accommodating unique branding locations is possible and profitable.
Pairing the Joggers
The companion piece, the 3727 joggers, was decorated using the same materials as the fleece.  To apply over the seam, we used a Heat Press Pillow.  By sliding the Heat Press Pillow inside of your item before printing you can accommodate seams, zippers and buttons accurately.  In this case, the seam sinks right into the pillow when the press is locked down creating an even print surface which is important to the application.
Silicone Heat Transfer on 3739
The next look showcases a unique finish of material called Silicone Dye-Block™ Heat Transfer Vinyl.  Traditionally, big brands use silicone heat transfers or screen printing for brand insignias or athletic numbering.  We see an overall trend in texture for fashion, so this rubber-like material is a perfect choice.  Manufactured in a roll that can be processed using a vinyl cutter or available in a ready to apply transfer with your artwork, it is a simple and easy way to elevate a logo.  To add flare, we completed the print placement on the pocket, playing to the ease of unique print locations. For this design, we used the BELLA+CANVAS 3739.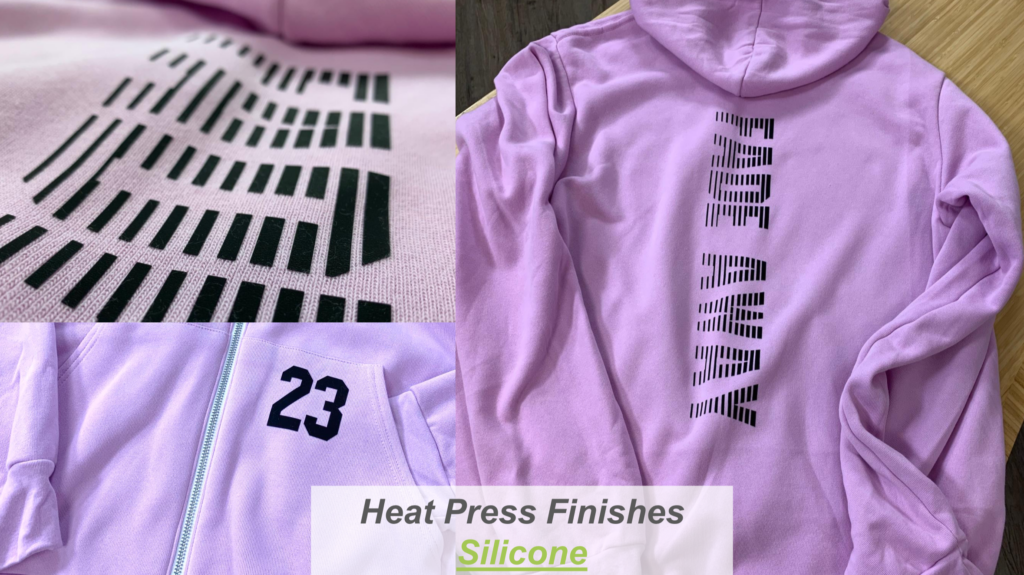 Flock II Heat Press on 3329
This simple athletic tail design has a vintage, varsity flair.  The execution of the piece, aided by the soft CAD-CUT® Flock II Heat Transfer Vinyl that was used on BELLA+CANVAS' 3329.  This velvet-like material is a clean and simple way to add value to a print.  We see this finish catch on in popularity, especially for fleece because it matches the style and comfort found in the actual garment.  Flock II Heat Transfer Vinyl has a wide variety of colors and can be cut on a vinyl cutter to order or produced in a ready to apply fashion using a customer's artwork.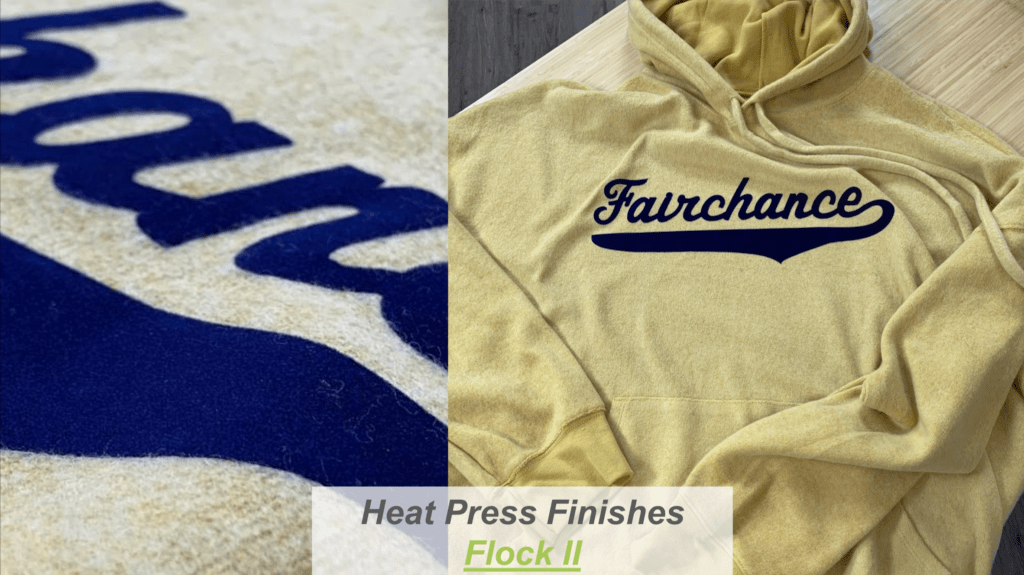 Soft Foam Heat Press on 3743
The final look is our newest and award-winning product called CAD-CUT® Soft Foam Heat Transfer Vinyl.  We used a color in the same tone as the blank (BELLA+CANVAS 3743) to create a high-end finish that would be perfect for any clothing brand. By utilizing the Hotronix® Fusion IQ® Heat Press along with a leg and sleeve platen, we can accommodate a 6" x 20" print location down each sleeve.  Paired with a simple left chest logo, we let the elevation and feel of the materials do the talking.  This material is unique, because it's not only dimensional but soft and pliable, making it great for fleece and lightweight tees.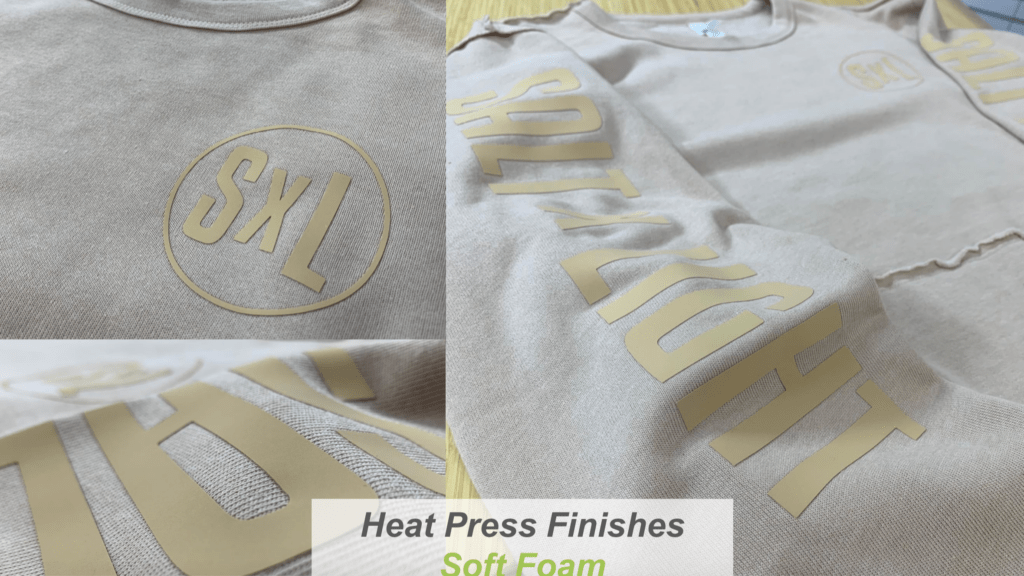 Overall, decorators and brands find interest in heat transfer as a technology for fulfillment.  It allows for just in time printing to order which greatly decreases the on-shelf inventory costs and greatly increases the flexibility for merchandising SKUs in an ecommerce environment.
___
Looking for more?
Questions about printing on fleece? Comment below!
Curious about our full fleece collection? Click here!
Create an account with Bella+Canvas here!
Join our Facebook Group, Bella+Canvas Insiders –  click here!
Read more articles here for additional printing tips!
Summary
Article Name
Heat Press for Street Fleece
Description
Forward Fashion Trends by Stahls -- Guest written by Josh Ellsworth, SVP Dealer Sales
Author
Publisher Name
Publisher Logo