Fast Fashion: How BELLA+CANVAS Is Different
Many of the fast fashion business models you are used to (think Zara, H&M, Forever21, etc) have gotten a bad rap for ethical and environmental reasons. At BELLA+CANVAS, we have made it our mission to create wholesale fast fashion that defies stereotypes and shows the world there's a way to do it right. We're proud to say that our fast fashion collection is manufactured in a no-sweatshop, eco-friendly way, with the vast majority of our products made right here in Los Angeles.
To us, fast fashion is a direct embodiment of what our collection is all about. It not only incorporates trends from the fashion world and makes them accessible to everyone, but it also delivers fashion, fast. We love that we are able to bring our customers the immediacy they crave, while doing what's best for the earth at the same time.
These days, it seems like the fast fashion industry is under fire for numerous reasons. But at BELLA+CANVAS, we strive to combat the common criticisms.  Want to know more? Read on for how we differentiate ourselves from them.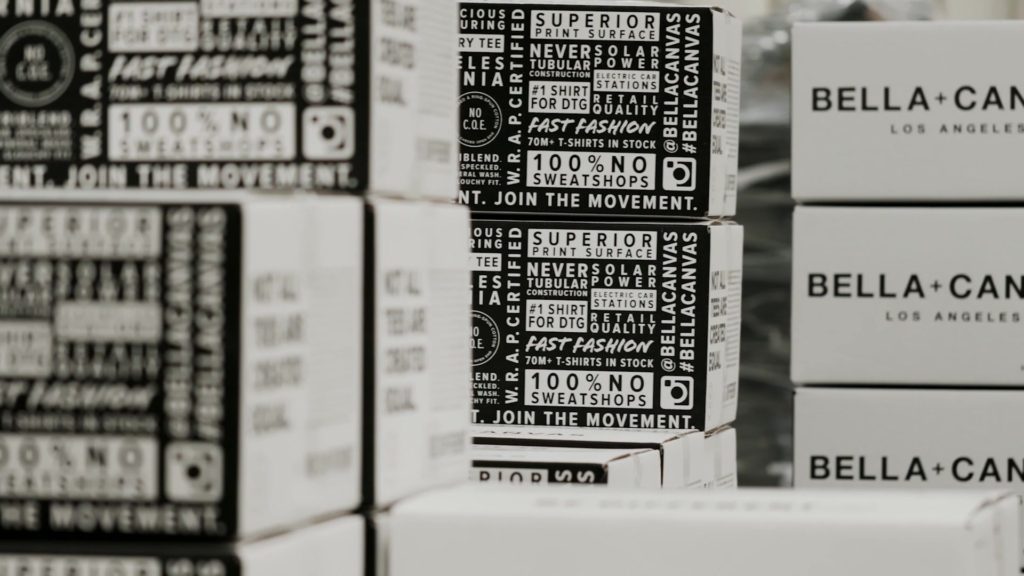 1) Quality
THEM: To many brands, fast fashion collections are cheaply made and disposable, ultimately ending up in landfills.
BELLA+CANVAS: Quality is our #1 priority. Our pieces are made to be worn time and time again.
While our Fast Fashion collection is priced affordably for wholesale, this collection is built around quality. We aren't cutting corners to shave off a few pennies, and as always, we refuse to use anything but the best quality combed and ring-spun cotton. Every fabric used in this collection is unbelievably soft, and made to wear time and time again. Manufacturers that use cheap carded-open end cotton are contributing to the garment industry's huge pollution problem, because no one wants to wear those tees. The worst part? Many of these products ultimately end up in landfills. Our tees will end up in your closet and on your customers. And what's better than that?
2) Environment
THEM: Frequently, fast fashion brands cut corners on manufacturing, which can lead to pollution.  
BELLA+CANVAS: Every one of our products is proudly made in our eco-conscious manufacturing facilities.
At BELLA+CANVAS, we don't do things the easy way or the cheap way, we do them the right way. We carefully looked at every step of both our manufacturing process and our corporate practices and made every effort to minimize our carbon footprint. Things like zero-waste programs and solar energy efforts keep us green.  Our dye house only uses non-harmful chemicals and uses seven times less water than the industry average.  We also manufacture the collection in sunny Los Angeles, eliminating the need to burn fossil fuels on oversea shipments.
3) Labor Conditions
THEM: Oftentimes, fast fashion brands create products in sweatshops, which are unsafe, unlawful, and absolutely unethical.
BELLA+CANVAS: We are a 100% no-sweatshop company and take great pride in creating a positive, safe working environment.
Being a 100% no-sweatshop company is a big deal to us. In fact, our LA facilities have received platinum level certification from W.R.A.P. (Worldwide Responsible Accredited Production), which is an independent group of social compliance experts that makes sure their factories are certified safe, lawful, humane, and ethical. When manufacturing goods overseas, we conduct independent audits of the facilities to ensure our overseas factories meet the same standards as they do here in the US.
Our Fast Fashion collection brings you all the benefits without those pesky hidden costs. We strive to be as transparent as possible in everything we do. Any questions about the way we run things over here? Ask away in the comment section below!
Check us out our website!
Read more about our manufacturing process here.